County Counters count Thayer County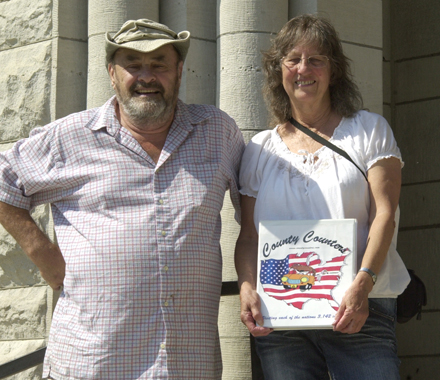 Ted and Jane Tofari have seen quite a few states in their travels. In fact, they've seen quite a bit of each state they've visited because their mapped route takes them to each county in each state. For the record, says 72-year old Jane, there are 3,142 counties in the country. As of Monday morning, the Tofaris chalked up number 2,458 after stopping in Thayer County.

"We head straight to the county seat where we take a picture of the courthouse," Jane said Monday morning during her visit to Hebron. "We also have the county seal stamped in our notebook where we mount the picture of the courthouse."

Jane added that Ted, who is 74 years old, uses a metal detector to find a coin in the courthouse lawn which is also mounted next to the picture in the notebook. To finish the page, Jane takes a second picture of something that she finds most interesting about the county. "We have over 90 albums at home," she said, which is in South Carolina. "We plan to finish Nebraska this week then move into Kansas."

Calling themselves the County Counters, the couple worked their way through North Dakota, South Dakota, Montana, Idaho, Utah and Nebraska so far this year. "We've been doing this for 17 years," she adds, although they had to take an eight-year break from 2002 to 2010. "We just started again this year and have less than 700 counties to go."

Most of those are in New England, the rest of the Great Plains and Alaska, places where winter weather makes access problematic sometimes. The retired couple travel across country pulling a camper with a pickup and have restricted their trips to summertime travel since their final destinations are more easily reached in fair weather.

Jane said she and Ted love to chat with people about their travels and welcome comments and questions at cntycntr@mindspring.com. "We should be home to answer email closer to Thanksgiving," she said. "We'll be on the road a little while, yet."