Hebron Legion Team ends season in district tournament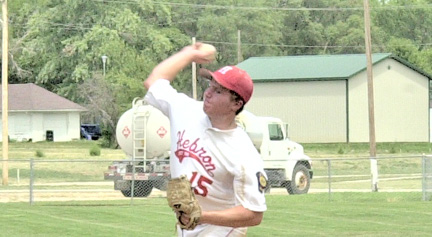 The Hebron Senior Legion baseball team began play in the District C Area 5 tournament on Friday, July 19. This year the tournament took place at the Hebron Baseball complex.
Going into the district tournament the Hebron  team had a record of 12 wins and 10 losses.
The season began at the end of May and has continued throughout the summer.
The five day district tournament is one of the last chances to play ball for the Legion season. The tournament started out with eight teams.
The Hebron team went into the tournament seeded fourth. Their first game was against No. 5 Tri County team. Despite the hot day, the team was able to win 14-1.
On the second day of the tournament, Hebron faced No. 1 Sutton. The team fell to Sutton 0-1.
This loss placed the team in the contention bracket in the double-elimination tournament.
On Sunday, the baseball continued when Hebron went up against No. 6 Wymore. The final score of the match-up was 16-4.
Games continued on Monday as Hebron faced No. 2 Davenport/Edgar. The Hebron team fell to Davenport/Edgar 0-6.
This loss ended the season for the Hebron team. Davenport/Edgar will face Sutton in the possible final game on July 23. Since Sutton has not lost yet, the Davenport/Edgar team must win twice to win the tournament.
The winners of the tournament will advance to the state tournament that will begin July 26 in O'Neill.