Reinke in governor's spotlight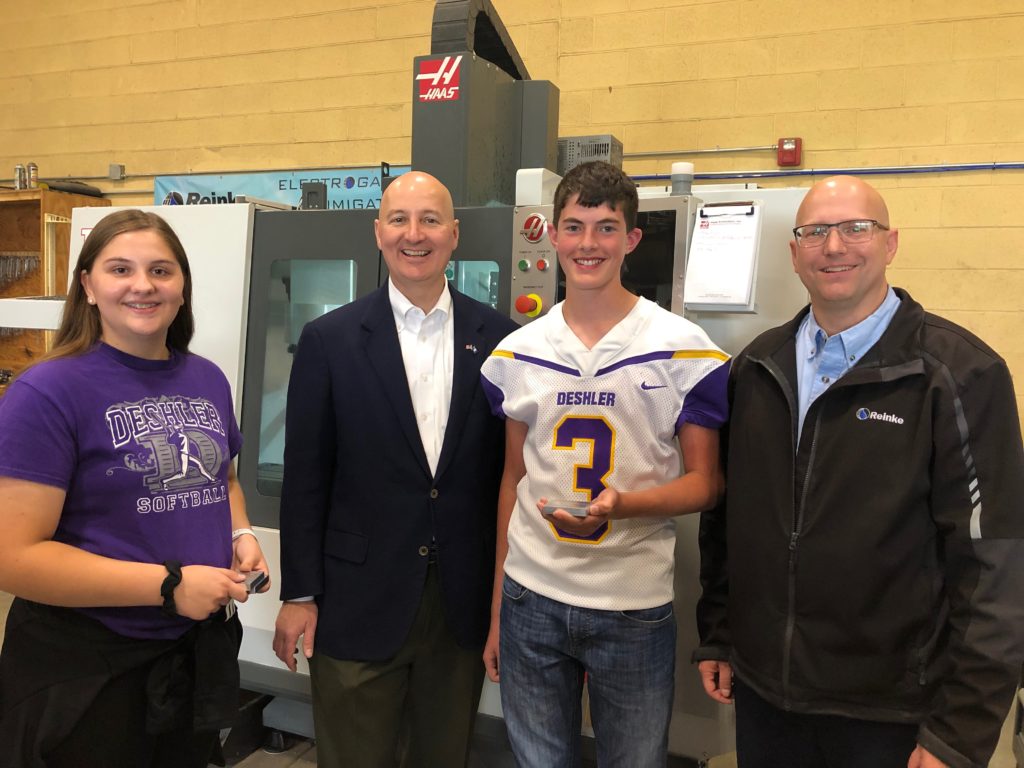 October is Manufacturing Month and Reinke Manufacturing was Gov. Pete Rickett's target in Thayer County Oct. 3.
"The tours have been fabulous," Bryan Sloane, president of the Nebraska Chamber of Commerce, said. "Manufacturing is one of the leading industries in Nebraska and key to economic development."
Manufacturing is the second leading industry in the state behind agriculture.
In 2009, manufacturing dropped 10 percent, Ricketts said as he spoke to Reinke leaders and employees, and toured the facility started by Richard Reinke on the family farm in 1954.
In the past 10 years, manufacturing has seen a steady recovery and accounts for one in 10 of every non-agricultural job to pour over $13 billion each year into the state's economy.
"Reinke is a very impressive manufacturing facility for the 32nd district and the second largest employer. It's amazing what it brings to a community the size of Deshler," Sen. Tom Brandt, who joined the governor, Reinke president Chris Roth, Sloane and state economic director, Tony Goins at the facility.
Ricketts signed the October Manufacturing Month proclamation at Reinke's, and once again, as he has done countless times, promoted the industry while taking a peek at Reinke's robotics area, and meeting students at Deshler Public Schools, where three machines sit purchased with the governor's Developing Youth Talent Initiative grant.
He said one of the ways to connect young people to good paying jobs and give them a "leg up" in high school is to award grants to private sector companies.
"The idea is to see what opportunities are available in the junior high grades and follow that into high school," Ricketts said. "You don't have to go straight to college. You can work for a company that pays your way into school."
That's part of the first Pillar of Prosperity to support growing the state.
There are four pillars — the first reached approximately 5,000 more students this year with the youth initiative grant. So far, 23 school districts have benefited from the grant. The program has reached at risk students as well, and increased attendance and graduation rates.
Reinke has received the youth initiative grant twice now, and uses it for education, however, the international company has coordinated manufacturing classes for nearly 10 years at the school.
"I came in 2011," Chuck Hatzenbuehler, a Reinke employee who is a welding instructor to students. "I think it's important and gives kids an opportunity to learn a skill they can always use."
Hatzenbuehler said there are two to three former students employed at Reinke's, and he has seen welding used in a variety of ways, including art.
Ricketts spoke with several students about their work and listened to their future plans. One of the students said he was planning a career in law enforcement and Ricketts commented Nebraska is re-building its state patrol force.
The other three Pillars center on customer service from government and diversifying away from China, so the state isn't solely dependent on it for exports.
"We're making sure we're running our operation the way you run yours," he said about Reinke. The state has cut the time it takes to secure permits and addressed the developmental disability sector.
The third Pillar controls government spending, and the fourth, highlights Nebraska's ability to trade with several countries and boost economic development.