Warrior Dash draws 20,000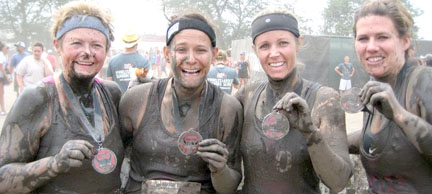 The state held its first ever Warrior Dash last Saturday and Sunday drawing over 20,000 amateur athletes to the Louisville area. Organizers of the dash, a grueling 5k race through fire, water, mud, hills and other obstacles, encourage participants to use the race as a fund raising opportunity for St. Jude Children's Research Hospital.
Several Thayer County locals decided to give the race a shot including the women's team of Deb O'Callahan, Malissa Sittler, Kristen Brinegar and Jen Blau. The Nebraska "warriors" climbed wooden walls and barricades, balanced on tightropes, crawled up rope netting, leapt over fire obstacles, plowed through mud pits and crawled under barbed wire in the 3.33-mile course.
Heats consisting of several hundred competitors, started every 30 minutes during the two-day event.
At the end of the race participants were given a t-shirt and finisher's medals.