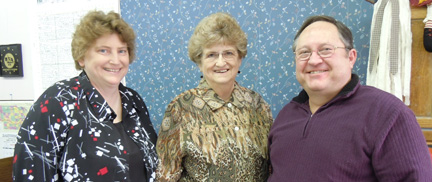 Longtime business woman Rosemary Dageforde retires
Rosemary Dageforde wears a lot of hats; they may not be visible to the naked eye, but the stack sits squarely atop her head, nonetheless. "I've always been involved in community matters," says the Hebron businesswoman who consistently advocates the promotion of Hebron and Thayer County. "It's just what I do."
However, one of those hats, a big wide-rimmed one as it turns out, is getting removed from the stack and carefully hung on a rack impressively covered with others. "It's time to retire," she says. "It's time to slow down a little."
Rosemary and her late husband Darrel, who got his start as a Farm Bureau agent in Thayer County, went independent in 1984 after purchasing the Bill Svoboda agency. In 1990, the Dageforde's acquired the Wilbur Yost Agency and expanded again in 2003 after purchasing the Heartland Agency. Last month, Rosemary sold the corporation to her daughter, Deb, and son-in-law Mark Craig. Mark has worked at the agency for 21 years.
"At the time we decided to open the Dageforde Agency," Rosemary recalled, "we owned Dageforde Farms and the Hebron Feed Store. We opened the Hebron Clothesline in 1989."
And, as if four business hats weren't enough responsibility, Rosemary continued to generate community pride and involvement  through various civic groups. She served on the board of the Hebron Chamber of Commerce, became one of the founding members of the Thayer County Economic Development Alliance of which she is currently the president, and also serves as president of the local Lions Club today. And, of course, she couldn't very well live on a farm without being a 4-H leader.
But, we aren't done counting the hats just yet. She also belongs to the Woman's Achievement  and Centennial Extension clubs.
"Volunteering, that's just a forever thing," she says and waves away any suggestion indicating quitting could be a possibility. "I'll always be a member of those."
Rosemary plans to spend the additional time she gains in retirement gardening and seeing more of her eight grandchildren and three great-grandchildren.
Deb and Mark will run the Agency with the continued help of long-time administrative assistant, Cathie McKenzie. "We'll keep the same business line," said Mark who is both a licensed insurance agent and /real estate broker, "and be open as usual."
Deb, who currently works  part-time  at MetalQuest, is heading back to the classroom to get her insurance and real-estate licenses. "We are proud that we are able to follow in the traditions and immeasurable footsteps that Mom set down for us in keeping Dageforde Agency as a locally owned family business."