Clarks retire after 41 years of service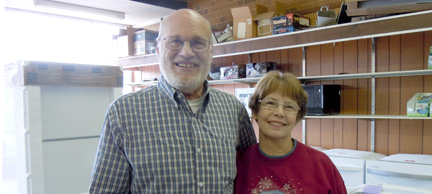 Hugh and Linda Clark are locking a familiar door in Hebron, but not without opening a new one. The couple quietly closed the Hebron Western Auto store on the last day of 2012 after deciding to retire. The door had been swinging both ways for 41 years.
"We opened Western Auto in 1971," Hugh noted gesturing around the familiar store. "We bought the building in 1976."
It's a building that has graced Hebron's downtown district since 1889. Clark is only its second owner, he said adding that C.C. Fletcher built it. "It was vacant for about five or six years before we moved in," Hugh said. "And I know Holiday Drugs was in this spot at the time of the tornado."
Hugh and Linda, who have been married for 46 years, moved to Hebron to open the store. Hugh worked as a truck driver and delivery man for the Western Auto company in Kansas City prior to coming to Nebraska. "We always wanted our own store and after a couple of locations became available, we chose Hebron," Hugh said. The couple moved here with their two young children; Angie who was three at the time and Amy who was six months. And it's their daughters who are behind the opening of a new door – the doorway of retirement.
"We plan to spend more time with them and their families," Hugh said indicating he and Linda are grandparents to Angie's six-year-old triplets in Kansas City and Amy's two young teens in Phoenix. Linda also recently retired from Norder Agri Supply after 20 years of service.
As for the local Western Auto, the door will continue to swing back and forth as local businessman John Kroll takes the keys. The owner of Fat Jacks will combine both businesses under the Western Auto namesake.
The local store will offer its familiar line of appliances, batteries and car parts as well as the used vehicle line at Fat Jacks, Kroll said. The hours will stay the same: Monday through Friday, 8 a.m. to 5:30 p.m., and Saturday, 8 a.m. to 5 p.m.
In the meantime Clark said he greatly appreciates the chance to serve the public for 41 years. "We'll miss meeting and visiting with people every day. That sort of thing gets in your blood and we're going to definitely miss it."