Base Hit Bar destroyed in blaze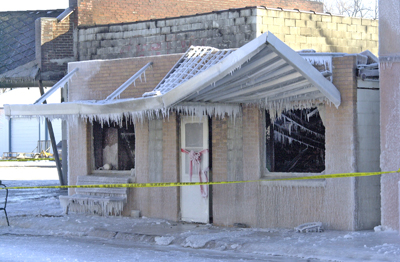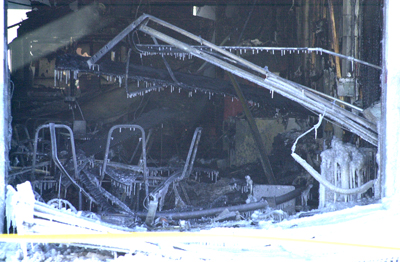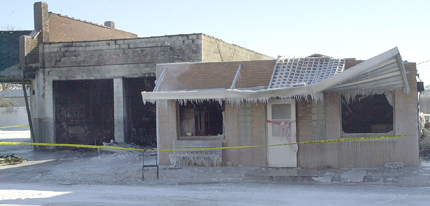 Volunteers from three fire departments battled a downtown Davenport blaze from midnight to 6:30 a.m., Wednesday, Feb. 2. The fire destroyed the Base Hit Bar that sits on the main street of the tiny village and was the only cafe in town. No one was in the establishment at the time of the fire.
Davenport Fire Chief Scott Smith said the place appeared to be totally destroyed."Most everything is not salvageable," he said. "It looks like the fire started on the north side of the building, flames were shooting out of it when we arrived and the whole place was filled with smoke. That north wind really pulled the flames through."

He said he wasn't sure what may have caused the fire to start, but that the state fire marshal had already investigated the area later Wednesday morning; however, he did not leave a report. "There was an inch of ice all through the building, so he may not have been able to do a complete investigation," Smith said. "He hasn't really told us anything yet."

Smith said the Department's main concern was keeping the fire away from surrounding buildings since it was right on main street. "The grocery store (which is located south of the bar) got some smoke, but no flames and I don't think there was any damage," he said.

Smith said he called in Carleton and Edgar fire departments for mutual aid and besides the blaze, the firefighters were forced to fight a stiff north wind and bitterly cold windchill. "We had a rescue unit on site and we could jump in there to warm up," he said and added, "I had an inch of ice covering me so that may have been my insulation." More seriously he said the only thing he really had trouble with was his hands. "A couple of times they froze into claws, but I would just get different gloves and keep going."

Smith said some of the volunteers complained of freezing cold feet, but no one was seriously injured. He also said the cold affected equipment. "When we'd shut a nozzle off it would only take a minute and it would be frozen. And when we were putting equipment away, we couldn't coil the tubes because they were frozen."
The Base Hit Bar is owned by Lucille Henry.