Belvidere hosts whistle-stop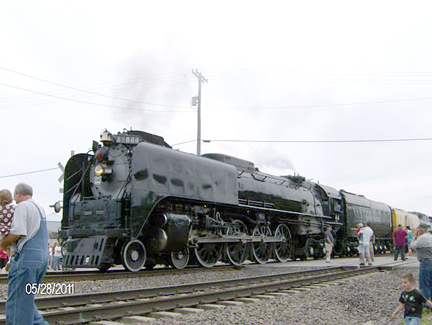 "Who would have thought we'd have 500 people come to see the train," said Belvidere Woman's Club president Linda Hudson commenting about the turnout for a special whistle-stop held May 28 in the village of Belvidere. "It was fabulous. The weather was wonderful and we had the biggest crowd; more than we ever expected."
Hudson, who spearheaded the special stop made by Union Pacific Steam Engine 844, Little Rock Express, was pleased with the turnout, eventhough the train was two hours late.
"The biggest share of the crowd stayed," she said, "and the conductors and train crew were so good about talking to the people."
Engine 844, making its annual loop through the Midwest, left Cheyenne, Wyo., Friday, May 28, and will return to its home July 3. The steam engine has passed through the area before, but has never stopped.
According to the Union Pacific website, the 844, built in 1944, is the last steam locomotive made for Union Pacific Railroad. It was considered a high-speed passenger engine until it was placed in freight service due to the introduction of diesel engines. The 844 provided freight service in Nebraska from 1957 to 1959, and was saved from being scrapped in 1960, and held for special service.
Today the engine runs thousands of miles as Union Pacific's ambassador of goodwill. Its stop in Belvidere served just that purpose as the local Woman's Club used the opportunity as a fund-raiser for a proposed train-watching station. Members of the club asked for free-will donations as well as sold souvenirs including wooden train whistles, flags, and engineer caps.
Hudson said the group will also be applying for grants; the station is expected to cost approximately $25,000.
"We hope to have more events, too," she said. "In August, the Union Pacific's Operation Lifesaver passenger train will be running between Fairbury and Belvidere." Operation Lifesaver is the Union Pacific's campaign to teach railroad and train safety to the public. Hudson said people will be able to ride the train from Fairbury to Belvidere, but does not have any details right now.
In the meantime, the Woman's Club will continue to work on establishing the train-watching station and promoting other historical interests in the county and especially Belvidere.