Belvidere receives $25,000 Union Pacific grant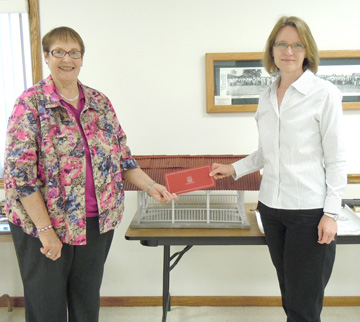 The Union Pacific Foundation is granting more than $1 million in 2012 to 36 Nebraska nonprofit organizations.
"Supporting these charitable organizations helps them to play important roles in improving the communities where our employees live and work," said Robert W. Turner, Union Pacific senior vice president-Corporate Relations and Union Pacific Foundation president. "We are proud to make a positive contribution to building strong, sustainable communities across our railroad network."
On Tuesday, May 8, Union Pacific director of public affairs for Nebraska and Iowa, Brenda Mainwaring, presented to the Village of Belvidere a $25,000 grant to be used toward a proposed train viewing station. "We've been working on this a long time," said Belvidere Chairman of the Board Linda Hudson in reference to the Belvidere Women's Club. About 50 people attended the presentation at the Belvidere Community Center. "We've had several donations and lots of help and it's wonderful to see so many of you in support of our project."
The Women's Club has been actively pursuing the installation of the viewing station near the Union Pacific tracks that roll through town.
On Tuesday, a scale model of the station, built from the proposed blueprints by Jim Kenner of Hebron, was on display during the presentation.
Union Pacific assists nonprofits in 22 states including Nebraska. For more than 50 years, the Union Pacific Foundation has upheld the tradition of supporting community and civic programs. Grants benefit community, cultural, and health and human services organizations.
Communities receiving a grant must be served by Union Pacific Railroad. The community must be located on the railroad line.
It was 150 years ago that Abraham Lincoln signed the Pacific Railway Act of July 1, 1862, creating the original Union Pacific.
One of America's iconic companies, today Union Pacific Railroad is the principal operating company of Union Pacific Corporation (NYSE: UNP), linking 23 states in the western two-third of the country by rail and providing freight solutions and logistics expertise to the global supply chain.