Titans end season at state tourney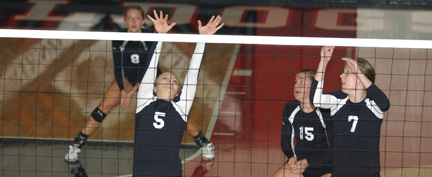 Thayer Central ended its 2012 season in the first round of the C-2 state volleyball tournament last Thursday afternoon.

Played at Northwest in Grand Island, the No. 7 Lady Titans fell to No. 2 Hastings St. Cecilia in three sets; 12-25, 19-25, 19-25.

"The Hawkettes served us off the court," Thayer Central longtime coach Kurk Wiedel said following the game and added, "We did not serve well. Any time we would get momentum going, it would be stopped by a service error or bad serve receive."

The Hawkettes used five players to put together eight service aces against the Titans while Thayer Central could not find one. The Hawkettes dominated all three sets althought, at one point in the third, Thayer Central managed to pull to a 14-11 lead, but the Hawkettes nipped it in the bud with an 11-4 spurt before eventually claiming the opening victory.

Thayer Central senior Bridgette Baden led the offense posting 18 kills and two  blocks while Kelsey Long had 11 kills and two blocks. Allison Tietjen provided two kills and one block while Tarryn Tietjen had two blocks and 31 assists. Megan Bulin had two kills while Trelby Virus added one block.

The Titans have a strong line-up of juniors returning next year while losing four seniors to graduation including Tarryn Tietjen, Ashley Petersen, Bridgette Baden and Morgan Fangmeier.

The 2012 volleyball team ends the season 22-8.