Buchli receives transplant after months on waiting list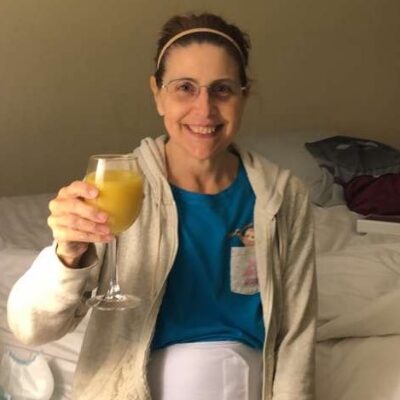 In January of 2020, the Matt and Karie Buchli family was anxiously awaiting a kidney transplant for Karie, who was focusing on educating herself and others on transplants and organ donations.
Months later, Karie was second in line for a kidney because another person in need of a transplant was a better match. She was told to be prepared even as she was prepped for the surgery that she most likely wouldn't receive the kidney.
There are a variety of factors in determining a match — only certain blood types can donate to one another and since diseases can carry over from one person to another through a kidney, matches also involve similar diseases between the donor and patient.
Karie was in Lincoln in August when the call came.
"In my mind, I just assumed I would get the call at 2 a.m. and we would have to race to Omaha, but I was in Lincoln getting my hair cut," Karie said.
The transplant team had three numbers to reach Karie, but Matt's phone wasn't working.
"Thank goodness they called my mom, who was at work. She was crying, 'You have to call this number right away. They have a kidney for you!'" Karie said.
They drove to Omaha and arrived at the University of Nebraska Medical Center at 6 p.m., and immediately, the transplant team began prepping Karie.
It would be another 24 hours before she found out she was the primary candidate who would receive the kidney from a deceased donor Aug. 30, two days before Karie was scheduled to meet with her doctor about dialysis.
"I don't know what factors made me a primary," she said. "God was watching out for me."
The next morning she felt good except for the incision, and she was expected to be on her feet right away. Matt was her care partner, but he couldn't be with her part of the time because of Covid-19.
"I was by myself quite a bit in the evenings, but the UNMC nurses are phenomenal. I was very well taken care of," she said. Karie was in the hospital from Aug. 30 until Sept. 4.
The kidney was filtering and her lab results were positive, so Karie moved to a short term hotel in Omaha until Sept. 10.
Since Karie didn't have to be on dialysis, her immediate recovery went well.
"I have done remarkably well and I attribute that to taking care of myself, like exercising and eating right," she said. "I was walking five miles a day when I got home."
She will need to take anti-rejection medicine exactly 12 hours apart for the rest of her life. Following the transplant, she took an extremely high dose of the medicine because her immune system would react to the foreign kidney. The medicine shuts the immune system down.
"The downside is every bug that comes through is going to hit harder than a normal person. In the age of Covid, it has been quite the challenge," Karie said.
She has healed well and the strength of the medicine is now at a maintenance level. She went back to work three weeks after the transplant.
"I sat home for a week and called the (transplant) team and they said since I didn't have a physical job, I could go back," Karie said.
There are rules when receiving a transplant — Karie can't contact the donor family, but she was able to write a letter to them and send it to UNMC.
"They will forward on to the family and it is the family's choice whether or not they want to contact the recipient. I hope that someday they do contact me. I want to tell them how grateful and blessed I am to receive this gift," she said.
She encourages people to become living donors and make sure their driver's licenses have the little hearts that signify they want to donate their organs.
"It's very important. In being a living donor, there is no cost to the person who is donating. The recipient's insurance covers all of their medical bills," she added.
Karie will soon be due for a heart valve procedure to repair a heredity heart murmur she was diagnosed with in 2007.
"I keep telling myself, if I can handle a kidney transplant, I can handle this," she said.