Cheerleaders compete at state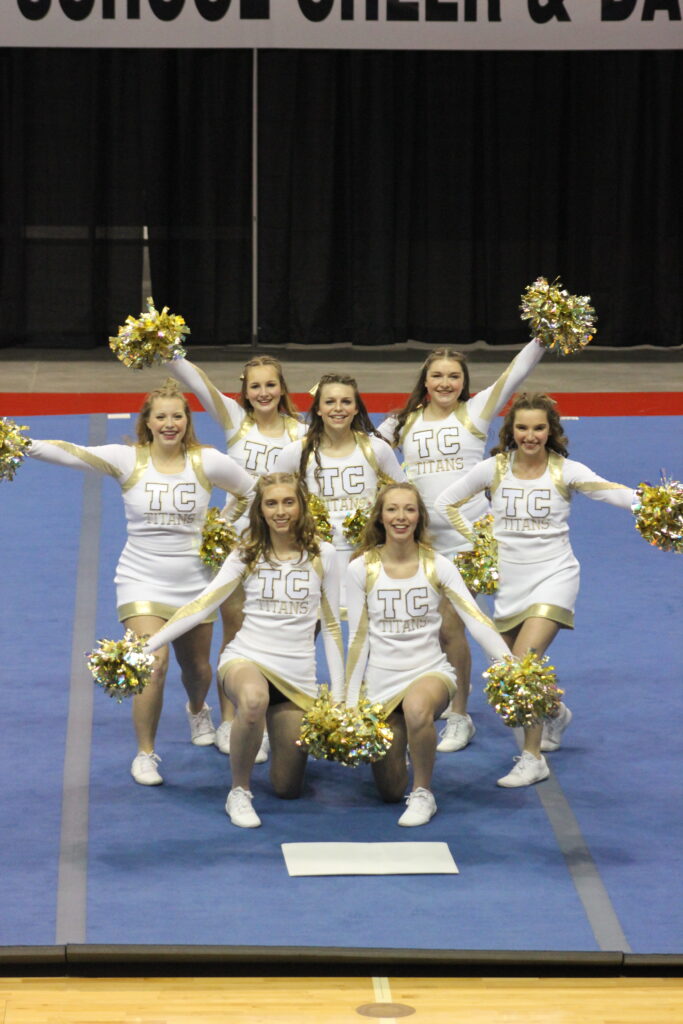 The week before the state cheer and dance championships, the squads at Thayer Central and Deshler were nervous, but also knew they had worked hard for the competition.
Thayer Central entered the Class C2 Non-tumbling and Game Day events, and placed third in Game Day out of nine teams. In Non-tumbling, the Titan squad was sixth out of eight schools.
The Deshler cheerleaders, entering the contest for the first time, were in the Class D Game Day event and placed fifth out of 11 teams.
Game Day has multiple components, starting with cheerleaders going through their routine as if they were on the sidelines and rousing the crowd through voice, pace and flow. Their motions are judged for technique, sharpness and placement.
They must effectively use their poms, signs and megaphones. Then, they are judged on their skills related to the Game Day environment in the areas of technique, stability, synchronization and spacing. Points are applied for each judging category. The Cheer Overall Impression is worth 10 points for genuine school spirit and energy. The cheerleaders must have barely noticeable transitions between each of the Game Day components.
"Game Day is really about getting the crowd excited. They use a lot of spirit and energy," Thayer Central Coach Carlece Kenner said.
Before the state contest, the cheerleaders discussed the sport, and their skills and goals.
Thayer Central
The team's only senior, Chloe Hintz has been a cheerleader since she was a freshman. She always knew she liked to cheer.
"Looking back, I can say, I've improved," she said. Chloe added her coaches, Kenner and Wendy Helfrich, push them to be their best.
"They make us work hard and they're fun to be around," she said.
The girls practiced on a Monday evening. Kenner had invited former Titan cheerleader Hannah Cooper, to watch the girls run through their routines. Cooper graduated last year as the squad's only senior.
Leading up to the state competition, the girls practiced at the school two to three days a week at 6:30 a.m.
"All of their routines are choreographed by the girls themselves," Kenner said. The cheerleaders learned their moves from camps.
Kenner said this year, the state competition was going to be different — Covid-19 had put a stop to the crowd and they had to show up at the Heartland Event Center in Grand Island with their makeup and hair done, uniform on.
Sophomore and second-year cheerleader, Madison Hammer, could tell the squad was ready for competition.
"I think we're at the point now, where we've put in a lot of practice and we're working really hard to compete," she said.
Madelynn Wells, Halle Pulliam and Caitlyn Mitchell were at state for the first time.
"My mom was a cheerleader and I always wanted to do it," Madelynn said. In the past, cheer didn't seem to fit her schedule, but this year, the junior decided to go for it.
"This year, I said I want to be a cheerleader," she said. Madelynn explained how cheerleading challenges her memory and strength.
"I'm a base for stunting. Your hand positions have to be perfect," Madelynn said.
Halle was nervous about state, but said she would be OK.
"I tried out my eighth grade year and didn't make it, so I tried out in high school and made it. I saw the cheerleaders and I like being in front of the crowd and having all the energy," she said.
Cheerleading also runs in Caitlyn's family. Her mother and aunts were cheerleaders.
"I really enjoy doing it," she said. "I feel like I've become a lot sharper and my jumps have improved. My spirit is great."
Junior Jasa Wiedel zeroed in on school spirit.
"I feel like every year we've progressed to something really great for our school," she said. "We're trying to get more people involved. It's important to have school spirit and be involved in a lot of things. And these girls are awesome, too."
Jasa has three years of learning jumps and stunts behind her with girls she might not see in other school activities.
Sydney Escritt explained their stunt training while her teammates continued practicing in the background.
"Go Titans!" they shouted.
"Cheerleading is more athletic than most people think. Our stunts are two bases holding up another girl. It takes a lot of strength. We have more girls in weights," Sydney said.
She added the girls are careful to limit the potential for injuries.
Deshler Public Schools
Coach Michelle Dubbert said the Game Day event was a little nerve-racking for the girls because they are given a situation to perform in and must decide if their performance will be an offense or defense cheer.
"They have to make sure they know about the sport they are cheering for," she said. Dubbert is in her second year of coaching, and the experience is somewhat nostalgic because as an elementary teacher, she taught the girls.
"I do enjoy being active and infusing more school spirit," she said.
Dubbert coaches a mixture of underclassmen and her sole senior, Sena Petersen, said the program has changed from when she started as a freshman.
"There are not as many girls. We are closer as a team and doing things together," she said.
Junior Brenna Dubbert agreed.
"It's different group of girls than all the sports I play. They are fun to hang out with," the volleyball and basketball starter said.
Sena explained their routines have shifted from dance to cheer with props and stunts.
"Our signs have been a big help, especially in engaging the crowd," Sena said.
In her third year of cheer, junior Avery Eitzmann said the camps were instrumental in teaching stunts, jumps, keeping their arms tight, and safety.
"It's exercise," she said. "Our arms hurt after a while of being crisp."
The girls joined for a variety of reasons. Freshman Kasey Collins, who stands on top of the team's formations, is carrying on a family tradition of cheer after her mother, Kimberly Sawyer and sisters, Kelsey Collins and Andi Collins.
"It has been in my family for a long time," Kasey said.
Cheerleading is a sport that takes a lot of dedication and memory, she said.
Freshman Abbi Tuma sees the sport as hard work. Abbi used to dance and was looking forward to the cheer competition.
"I enjoy it. There's a lot of peppiness and attitude, and it's different than other things I do, she said. "I'm happy of how we worked hard for our state routine. We've really worked hard."