Historical Society celebrates Fall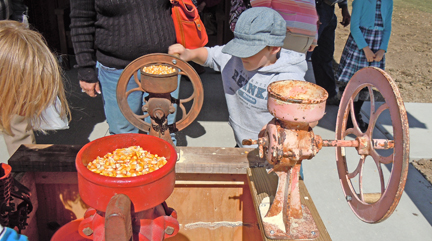 The Thayer County Historical Society held its annual fall festival Sunday amid beautiful autumn weather. A large crowd was treated to musical entertainment, old-time demonstrations, a car show, and dedication of the new barn.
Belvidere city administrator Linda Hudson welcomed the group of onlookers that included the county commissioners as the ribbon cutting got underway. "We here in Belvidere are truly pleased to have the museum here," she said. "It isn't the Belvidere museum, it's the Thayer County museum. It's for everyone."
Making a guest appearance, Nebraska State Historical Society historian John Carter extended to the local historical society the state's appreciation of its dedication in making the museum a vital part of Thayer County history.
Historical Society member Burdette "Stub" Priefert had the honor of cutting the dedication ribbon. Priefert has been a member for 45 years, the longest of anyone to date.
The barn was built and made possible by money received from the John A. Murrell estate, the Struve Foundation, Tom and Zola Griffen and Priefert and his wife Virginia.
For more photos of the day's events, click on the photos prompt at the top of the page.