Eagles Advance to Quarterfinals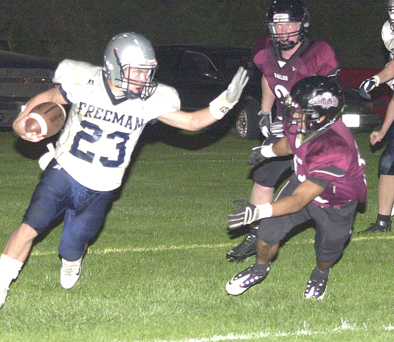 The BDS Eagles advanced to the quarterfinals in the 2011 state football playoffs after defeating Freeman, 22-20, Wednesday night. The second round victory was played on the Bruning grid.
The Eagles (9-1) will head to Creighton (8-2) for the quarterfinal, Tuesday, Nov. 7. Kickoff is at 5 p.m.
Although the Eagles held Freeman scoreless in a 36-0 defeat earlier in the season, BDS Coach Mark Rotter maintained that luck was on their side in the regular season game which did not reflect Freeman's true ability. "The calls just went our way," he said prior to the second match against the Falcons Wednesday night. "Freeman is a good ball team and we need to stay aware of that going in."
Rotter's assessment was correct as Freeman took an 8-0 lead in the last play of the first quarter when Austin Ruskamp ran for a 42-yard touchdown. Prior to that, the Falcons threatened to score in their second possession until BDS's Wyatt Schoenholz recovered a fumble at the 15-yard line putting a stop to the Falcon advance.
Schoenholz went on to score at the top of the second quarter following a 57-yard drive by BDS. Ryan Tegtmeier capped the drive with a 17-yard toss to Schoenholz in the end zone, but Tegtmeier bobbled the extra point pitch negating a conversion attempt leaving Freeman in the lead 8-6.
The Falcons again threatened to score in their next possession, but Schoenholz once again put the stop to them when he intercepted a pass meant for score in the end zone. BDS did not capitalize on the turnover until two possessions later when in the final seconds of the period Tegtmeier connected with Michael Houchin for 43 yards and the score. This time the conversion was good and BDS pulled to 14-8 lead at the halftime mark.
But that lead was short lived when Freeman's Ruskamp opened the second half on a 79-yard punt return making the score read 14 across. Downs were exchanged until Tegtmeier ran 24-yards to hand off to Luke Christensen who managed to score on a seven-yard scamper. The conversion run, completed by Tegtmeier, pulled the Eagles to a 22-14 lead where the third quarter ended.
Freeman collected its final score with 1:36 left in the game  when Ruskamp raced into the end zone for three yards, but BDS stopped them from completing the conversion run and the game ended 22-20.