Hebron blaze engulfs outbuildings, vehicles, other debris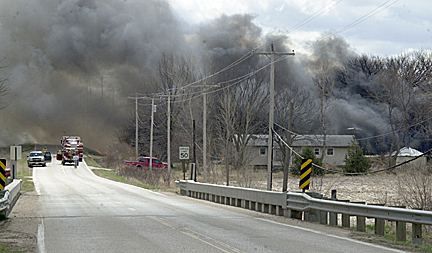 At about 1:25 p.m. Wednesday afternoon (March 23), Hebron Fire was called to the Robert Rachow residence on First Street near the golf course for a storage shed on fire. Brisk west winds helped fuel the blaze as it rapidly spread to old vehicles and other debris in the yard. Thick black smoke filled the area and rolled skyward hampering vision while the volunteers attempted to fight the fire from all sides. The blaze threatened to destroy a dwelling on the premises – no one was home.
The fire, believed to have started from a pile of ashes near a storage shed full of hay bales on the west side of the yard in the back of the house, quickly spread to old vehicles, trailers full of tools and machinery and other piles of miscellaneous items in the yard. It then moved to and destroyed a second larger storage building on the south side of the house where it continued across the yard through the ditch and onto the shoulder of First Street before the firefighters could stop it.
The Hebron Fire Department called in the Deshler Fire Department right away for mutual aid. Both departments had the blaze under control by 5 p.m., but according to HVFD Chief BJ Linton, Hebron was called back twice, once at 6:30 p.m., and once at 8 p.m., for hot spots. Linton says the department was still keeping an eye on it Thursday.
No one was hurt and damage to the house was minimal as the fire came close to the dwelling, but did not burn it. Some of the siding was affected by the heat, Linton said.