Hebron Juniors advance in state tourney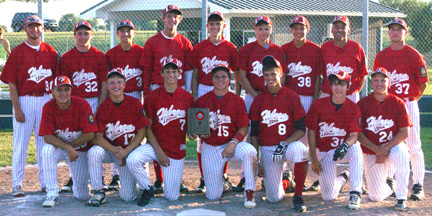 July 25: Hebron is out of the state tournament after falling to Pender, 5-7, Tuesday night. Pender jumped to a 7-0 lead in the first inning forcing Hebron into "catch-up" mode for the rest of the game. And even though Hebron out-hit Pender, 9-5, the early deficit could not be reconciled.
Caleb Goedeken, Simon Wiedel, Ben Hintz and Cameron Asche had two hits each. Hebron scored two runs in the third inning and three in the fifth. Goedeken replaced starting pitcher Junior Reed to pitch 4.2 scorless innings.
Hebron finishes the Class C tournament in fourth place on a 20-8 season.
July 24: Hebron faces Pender tonight at 5:30 p.m.
Hebron suffered its first tournament loss last night, July 23, against Creighton, 1-8, after failing to get a hit off pitcher Seth Wilmes well into the game. Wilmes pitched the no hitter into the sixth inning before singles by Caleb Goedeken and Jay Cottam produced Hebron's only run. Creighton sent 18 batters to the plate for 8 runs in the second and third innings. Hebron's Preston Brinegar pitched the loss. Hebron defeated Pender earlier in the tournament 13-3.
July 23: Hebron Juniors face Creighton tonight at 8 p.m.

The Hebron Junior American Legion baseball team will take on Creighton Monday night at 8 p.m., in the Class C state tournament at North Bend.

Hebron cleared its first two hurdles by winning against Malcolm and Pender in the double-elimination tourney which started Saturday.

In the first game against Malcolm Saturday afternoon, the Hebron team went 1-0 in a battle of pitchers between Hebron's Caleb Goedeken and Malcolm's Trevor Carroll. Goedeken gave up one hit in seven innings. Carroll struck out 12 batters while taking the loss. Hebron scored the only run of the game when a toss to third base during a steal attempt escaped into left field bringing in Ben Hintz to score the unearned run. Malcolm got two on with one out in the bottom of the seventh inning, but Hebron turned a double play to end the game as victors.

In Hebron's next contest against Pender Sunday evening, Junior Reed pitched the 13-3 win. Hebron claimed the victory in five innings after taking an early lead by putting its first seven hitters on base. Preston Brinegar was 3-for-4 in hitting with two doubles, a triple, and two RBIs.

"We're hitting the ball well right now," said Hebron coach Mark Hintz. "If we win against Creighton tonight, we'll definitely be playing in the championship game."