Hebron Juniors advance to state tournament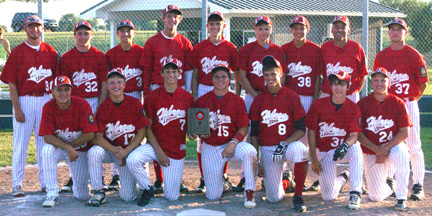 Thursday July 19: The Hebron Junior Legion baseball team will face Area 4 champs Malcolm in the first game of the Class C state tournament this Saturday in North Bend. The first pitch happens at 12:30 p.m. Eight teams make up the tourney bracket; other games on Saturday include: Shelton-Gibbon v Pender at 3 p.m.; Palmer-Wolbach-Greely-Spalding (PWGS) v Dodge at 5:30 p.m. and North Bend v Creighton at 8 p.m.

The Hebron Junior Legion baseball team earned a trip to the state tournament Tuesday night after picking up the Class C Area 5 championship at Doniphan. The team is coached by Mark Hintz of Hebron.

In game 8 of the series, Hebron defeated Davenport/Edgar/Shickley 10-4 to secure its state contention. Ahead 5-4 heading into the fifth, Hebron knocked down 18 hits and scored five runs in the final three innings for the victory.

Hebron went an undefeated 3-0 in the tournament, collecting wins against Davenport/Edgar/Shickley in the opener 10-2; Dannebrog/Cairo/Boelus in the second bout 15-0 and finally DES in the championship game. Caleb Goedeken pitched the seven-inning winner while Ryan Tegtmeier took the loss for DES.

More information will be added as soon as the Class C state bracket is released. The tournament will take place at North Bend, July 21-25.