Heitmann represents Nebraska at National Poetry Out Loud contest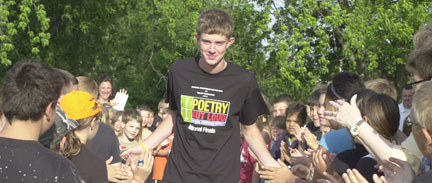 Nebraska representative and Thayer Central junior Russell Heitmann, a finalist among nine, competed in the National Poetry Out Loud finals, May 15, in Washington D.C., where he recited "Poem With One Fact" by Donald Hall in the first round, and "Dover Beach" by Matthew Arnold in the second. Following the competition, the field was narrowed to three finalists to compete for the championship.
Kristen Dupard of Mississippi, (the eventual champion), MarKaye Hassan of Utah, and Claude Mumbere of Vermont went on to compete in the final round.
In a short interview following the second round of the finals competition, Russ was asked what he liked most about Washington, D.C. With nary a pause, the Thayer Central junior said "The food," and with a specific reference to Mediterranean cuisine and burgers, Heitmann said, "Let's just say we (his family) used the money provided to us well."
During his competition Russ was able to win $500 for poetry materials for Thayer Central as well as $1,000 for himself. He is the son of Darcy and Anne Heitmann of Hebron.