Historical Society gets ready for annual Harvest Festival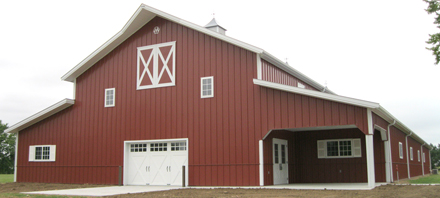 Thayer County Historical Society members are busy getting ready for the annual Heritage Fall Festival in Belvidere. The festival is used to showcase the local museum and grounds offering a variety of entertainment, historical displays and food. The festival is scheduled to take place Sunday, October 2.
This year, the Society will dedicate the museum's new barn – a dedication that was to take place last year, but due to construction snarls was put off until this year.
The barn, made possible with funding received from the John A. Murrell Estate, Struve Foundation, Tom and Zola Griffen and Burdette (Stub) and Virginia Priefert, is 135 feet long by 36 feet wide and houses farm machinery and tools throughout the ages.
The structure is handicap accessible, fully plumbed and has electricity. The dedication is scheduled for 4 p.m.
Also on tap for the day is the traditional luncheon in the Belvidere Community Center beginning at 11 a.m., pioneer demonstrations including blacksmithing, rope making, and horseshoeing as well as a farmers market, craft booths and car show. And new to the line-up of activities this year is a model train demonstration.
As always, musical entertainment will be featured in the afternoon. Returning to the festival, the McClellan sisters of Adams, Ne., Tiffany Kimberly, Jewel, and TaMera, will entertain with southern gospel on the museum's front lawn. Area students from local schools will also perform during the day.
All the museum buildings and displays will be open for viewing. In the last few years, much work has been done to organize, fix, maintain and clean the many treasures and memories of Thayer County.