Hospital Foundation recognizes Guild's volunteer efforts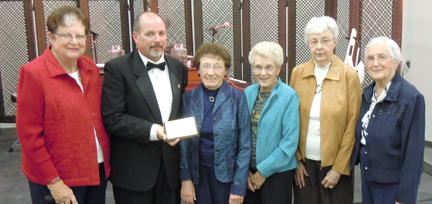 Over 300 people attended the  Hospital Foundation Variety Show held at the Thayer County fairgrounds in Deshler Sunday night. The annual revue showcases local talent as well as brings in special musical talent. This year Dueling Pianos musicians Marc Doiron and George Winters brought a lively mix of piano entertainment using 176 keys of fun.
Included in the event, the Foundation each year recognizes an individual or group whose dedication and effort to Thayer County Health Services is unsurpassed. This year the "Volunteer of the Year" award was presented to the Hospital Guild for its efforts through the Things and Stuff shop located in Hebron.
Since 1950, the Hospital Guild has provided support in one form or another to TCHS. This active group of over 500 members from the 11 communities of Thayer County, was originally formed by a few who sought ways to support the local hospital. Initial assistance included mending hospital linens, visiting and reading to patients and canning garden produce for the winter months.
By 1960, mandated regulation for hospitals such as disposable and pre-sterilized medical supplies and food preparation did away with sewing and canning changing the group's focus. A new mission was adopted and the group began to find ways to garner financial support for the hospital.
In 1967, the Guild organized a county-wide rummage sale calling it a "things and stuff" sale. Success of the sale resulted in the Guild's continuation of the event which was held once a week in a donated space above a bank in downtown Hebron.
In 1988, the Guild decided to purchase a ground floor building on Lincoln Avenue in Hebron and opened the shop called "Things and Stuff." This business has since become the primary fundraising activity for the Guild and operates four days a week.
"Over the years, the Things and Stuff shop has become a true success story," said TCHS director of development and marketing Rita Luongo during the presentation Sunday night. "Their hard work makes it possible for the Guild to purchase over $25,000 in new equipment, supplies and other items for the hospital and clinics each year. Every employee and every patient at TCHS has benefitted from the hard work and efforts of the volunteers involved with Guild's Things and Stuff shop."