Lady Eagles CRC champs – third year running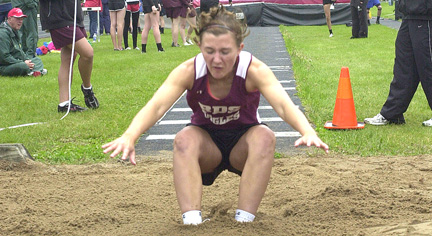 The Lady Eagles showed up in fine form Saturday as they snagged the Crossroads Conference title for the third year in a row. The victory wasn't secured until the very last race when the girls' 1600 meter team including members Christy Swartzendruber, Jill Schroeder, Taylor Houck, and Kallie Schroeder ran a season's best time of 4:27.6 to finish fourth allowing the squad to hold on for a slim three-point win over runner-up Giltner, 87-84.
A strong performance from Shelby Garland led the way as she picked up three gold medals in individual competition. The senior had two season's bests as she won the 200 meter dash in 26.4, and the long jump with a leap of 16'8". She also won the 100 meter dash in a race of 12.9 and broke her own school record in the 400 dash with a time of 61.2.
For the second meet in a row, Kalli Schroeder broke two school records, both in events where she is the current record holder. She finished runner-up in the 1600 with a time of 5:53.6 and took third in the 800 with a time of 2:36.3. Taylor Houck also brought home silver in both hurdle events as she ran 17.1 in the 100 and 52.4 in the 300.
Kristin Troyer added two personal best marks as she finished third in the 300 hurdles (51.8) and took fifth in the triple jump (31'11.5").
Johanna Kluck established her personal best in the 3200 run with a time of 14:35.4 to take fifth and Ashley Hinrichs ran to a sixth place medal in the 3200 as well. Earlier Ashley was joined by Christy Swartzendruber, Jennifer Mick, and Cynthia Mick in the 3200 relay where they finished fourth. Jill Schroeder took fourth in the triple jump.
Over in the men's competition, BDS finished seventh with 24 points.
The team was paced by Luke Christensen's three medal performances as he finished third in the 200 (23.9), fifth in the 100 and then teamed up with Kendrick Holeman, Nathan Hendrickson, and Grant Norder to take third in the 400 relay (48.0).
The pole vaulters provided points as Alberto Gamboa took third place (11') and Blake Stengel finished sixth. Nolan Schroeder continued his late season run as he brought home two medals with a fifth place toss in the shot put and a sixth place throw in the discus to round out the team's scoring.