Titan men take SNC championship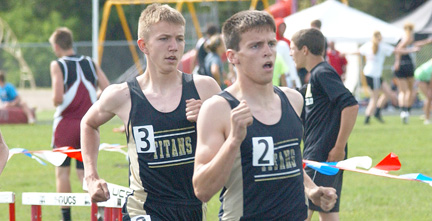 The Thayer Central men's track and field team brought home the Southern Nebraska Conference championship Saturday after collecting 86 points on the day. Tri County finished second with 78.
Seniors Greg Dightman and Michael Feulner led the way as each earned gold medals in their respective individual events. Dightman finished first in the 200 dash (23.41) while Feulner did the same in the 1600 run (4:52.10).
Dightman went on to take second in the triple jump (40'6.5") and third in the long jump (20'11.77"), then joined Macaulay Mumm, Jared Marsh and Kalen Wenske on the 400 relay team to finish the race in 3:35.35 for third place.
Feulner, Marsh and Wenske then joined Tyler Van Cleef on the 3200 relay team to finish first in a run of 8:27.1.
Collecting silver medals on the day were Cameron Asche, Trev Mumm, and Andrew Wilshusen. Mumm managed his second place win in the 1600 meter race (4:54.55, while Wilshusen sailed the discus 139'10" to place. Asche leaped 21'.5" to take second in the long jump.
Kalen Wenske rounded out the third place wins after finishing the 800 meter run in 2:04.46.
Final performances for points came from Asche in the 110 hurdles (16.39) for fifth, Dalton Kenning in the pole vault (12'6") for fifth, Tyler Van Cleef in the 1600 meter run (5:01.84) for sixth and Adam Hellbusch in the 3200 meter run (11:03.06) for sixth.
For the ladies, Madison Reece pocketed two gold medals after finishing first in both the 1600 (5:40.47) and 3200 (12:19) runs to lead the Lady Titans to a sixth place finish with 40 points. Fillmore Central won the meet with 160 points.
Megan Bulin earned a silver medal after pushing the weight 36'11.5" in the shot put.
Collecting fourth place points for the Titans were Lauren Edgecombe in the 100 dash (13.66) and Bailey Linton in the 1600 run (5:51.42). And rounding out the Titans individual scoring was Jasmine Kovacs in the 110 hurdles (18.16) for sixth place.
In the relays, the 400 team including Rachel Johnson, Edgecombe, Tarryn Tietjen, and Kovacs raced the circuit in 55.24 for fifth place while the 3200 team including members Rachel Heitmann, Linton, Sydney Cottam and Haley Huhman raced the course in 11:02.85 for sixth.