Local dancers compete in Omaha, advance to national competition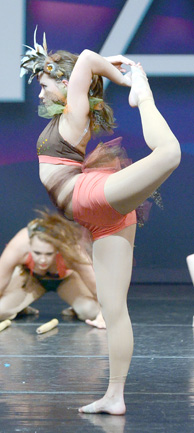 Once a week when many students are finishing their homework and chores, students Kassie Kent, Trelby Virus and Briana Werner are hard at work fine tuning their dance routines choreographed by Tammy Culhane at Crete's Dance Company with The Edge competition team. All three girls participate in character jazz with Kassie also participating in jazz, lyrical, tap and pom.
These dedicated competition dancers come from Crete, Dorchester, Friend, Hebron, Milford and Wilber to learn and perfect intricate choreography.  The twelve Edge competition dance team groups compete against larger cities in various categories throughout the region.
This year, participating at the Rainbow Connection dance competition in Omaha at the Civic Center, character jazz dance "Tribal Beat" was nominated for the national video of the year.  The video can be viewed on the Rainbow Connection Facebook page. The dance team invites viewers to click "like" and "share" if they like the video and wish to share it with friends and family.
"Tribal Beat" also won second overall for large group dance in the 15-19-year-old division, as well as an award for best staging. Other groups competing and placing in the same age division were senior tap with a first-place win overall and the special award of most entertaining act of the day, and the senior pom routine received first overall while senior lyrical received third overall.
The Edge also competed in Omaha in the Talent on Parade competition.  Again, all twelve competition groups placed in the top ten high point class with "Tribal Beat" placing fourth overall in their group.
The director of Crete's Dance Company, Tammy Culhane, is also the owner of Hebron's dance studio, The Dance Project. Culhane is hoping to take her competition team to Las Vegas this year for Nationals.  Members of The Edge will be raising funds through concession sales to use for expenses for Las Vegas during the Hebron recital on April 14.