Mail pick up to be earlier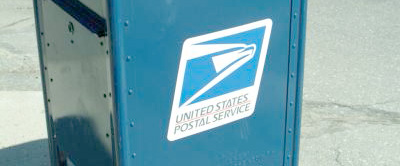 Effects of the latest U.S. Postal Service announcements of cutbacks are already trickling down to rural Nebraska. Here in Thayer County, while villages such as Byron and Carleton wait to see if they'll lose their post offices altogether, everyone else will soon notice a time change for outgoing mail.
"It's the one-and-seven," says Hebron Postmaster Mike Prellwitz. "Mail will now be picked up one hour and seven minutes earlier than usual."
That means locals who are in the habit of posting their correspondence just a few minutes after regular business hours (5:15 p.m.) will now need to scuttle to the post office by 4:08 p.m. to catch the mail truck. "We'll still have pick up Monday through Saturday," Prellwitz said, "but it will just be an hour earlier."
At a news briefing Monday, Dec. 5, postal vice-president David Williams announced that the USPS wants to move quickly to close 252 mail processing centers – five of those are in Nebraska. The centers will move to Omaha, which will likely cause a slow-down in delivery.
Williams warned in the announcement that first-class mail, which will increase another penny to 45 cents beginning Jan. 22, will no longer arrive the next day. The move will likely slow down other mail as well, such as check payments, newpapers, magazines, or mail-order movies.
Williams said after reaching a peak in 2006, first-class mail volume, currently at 78 million, is projected to drop by half in the next eight years.
He added that right now, first-class mail is supposed to be delivered to homes and businesses in one to three days, but the delivery schedule will be lengthened to two to three days. Periodicals could take up to nine days for delivery.
Consolidating the processing centers also creates pick-up changes such as the one the Hebron office will experience on Jan. 3, 2012. Prellwitz said the time change at the Hebron office will affect Byron, Chester, Deshler, Gilead, Hubbell and Reynolds.
Alexandria, Bruning, Carleton, and Davenport are routed through Geneva and according to Postmaster Jason Harms, Geneva's pick-up time will change by 40 minutes. "Our new time will be at 5 p.m. beginning Jan. 3, instead of the current 5:30 p.m.," he said.
Prellwitz said the new pick-up time will most likely affect the local office's window service. "We've got to have our business done by the time the truck comes," he said. "If the mail is gone by 4:08 p.m., our work is done."
Prellwitz said he has not heard whether the window hours will change, but expects it to happen.
Currently the window is open from 8:15-11 a.m. and 12:15-4:30 p.m., Monday through Friday, and 8:15-10:15 a.m., on Saturdays. A change would most likely see the window closing up to an hour earlier, at 3:30 p.m. "We need time to get the deposits done," Prellwitz said. "We need to have everything ready before the truck gets here."
To determine the new mail pick-up times in the communities tied to the Hebron office, simply subtract one hour and seven minutes from the current posted times. The time change begins Jan. 3, 2012.