Volunteers needed to raise and lower honor flags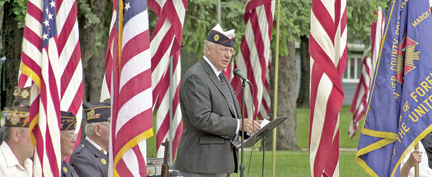 Thayer County Veteran Service administrator Rodney Kirchhoff is looking for help to raise and lower honor flags on Memorial Day in the spring and Veterans Day in the fall. "The number of veterans whose flags are being flown on the courthouse lawn continues to grow," Kirchhoff said, "and now number 400. A good deal of work is involved in placing the poles to raise the flags, then folding them again for storage after lowering them."
Kirchhoff said the Thayer County "Court of Honor" flag display had its origins in 1969 and is considered one of the initial flag displays in the State of Nebraska.
Dramatic at the very least, the premiere display proudly flies the names of veterans from all parts of the county. "It originally contained the flags of veterans from nearly every community in Thayer County," the administrator said, "but as time has gone on, several communities have opted to honor their veterans in programs of their own."
Some family members from other towns and villages in the county withdrew their honor flags (provided by the U.S. government at the time of a veteran's death) to set up displays closer to home.
"Even with this being the case," Kirchhoff said, "the number of veterans whose flags are still being flown in Hebron continues to grow."
Kirchhoff said the labor intensive chore has fallen to a dedicated few over the years, but that their numbers are on the decline. "So reality tells us that unless we have additional volunteers involved in the flag display, there will come a point in time when we may have to discontinue the program."
On both holidays, the flags are posted at 7 a.m., then taken down at 4 p.m.
Kirchhoff says he would hate to see the program discontinued and is making a plea to the community and surrounding areas to become involved. "There is no better way that I can see to honor those who served, than to assist in flying their flag."
To volunteer, either let Kirchhoff know by calling 402-768-7223 at the Thayer County Veteran Service office or by showing up at 7 a.m., on the morning of Memorial Day, May 28.