Retiring Raatz holds state record for employment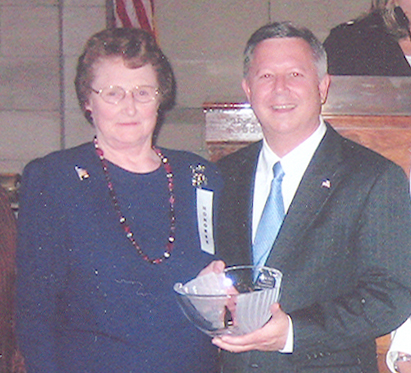 Loetta Raatz is honored in 2006 by Gov. Dave Heineman for 60 years of service to the State of Nebraska. This year marks her 65th year as a state employee which holds the state record for government employment in Nebraska. Raatz will retire this month. A retirement open house at the Thayer County Courthouse will be held Feb. 4, from 2-4 p.m.
Loetta Raatz is retiring after 65 years of service to the State of Nebraska, and according to state officials, Loetta holds the  record for years of employment in not only the Department of Health  and Human Services, but in all of Nebraska state government.
Loetta began her career, Nov. 1, 1945, as a stenographer clerk in one corner of the Thayer County Courthouse basement in Hebron. World War II had just ended, and the CCC Camp, WPA and NYA records were still in the files.
She worked 48 hours each week, Monday through Saturday, for $75 a month and no benefits. In a pre-computer and pre-copier era, she pounded the keys of a manual typewriter and duplicated documents on carbon paper. There were no nursing homes or assisted living complexes, no food stamps or energy assistance, no social security benefits or medicaid programs and for the homeless, only the county "poor farm."
"In the days before modern programs many in need of help weren't getting the help they needed," Loetta states as she recalls the past. "These are the people I wanted to help. These are the people I wanted to serve and so I did."
As a survivor of the Great Depression, Loetta says she understands and can relate to those in need and customer service remains uppermost in her dedication to help people. "Treat people with respect, be as diplomatic as possible, and take time to explain things in ways people can understand," she says. "'Helping people who need help' is my credo and my reward."
And although her title changed over the years from stenographer to case aid to income maintenance technician to county director to social service worker, Loetta's continuing aim has always been to help people who need help.
For employees in state government serving 20 years can seem like a long time given some of the frustrations one encounters, Loetta explains, "but complaints tend to seem trivial when I consider my 65-year career. I have enjoyed the years immensely, was able to adjust to the many changes, and hope the newest change will be a great success."