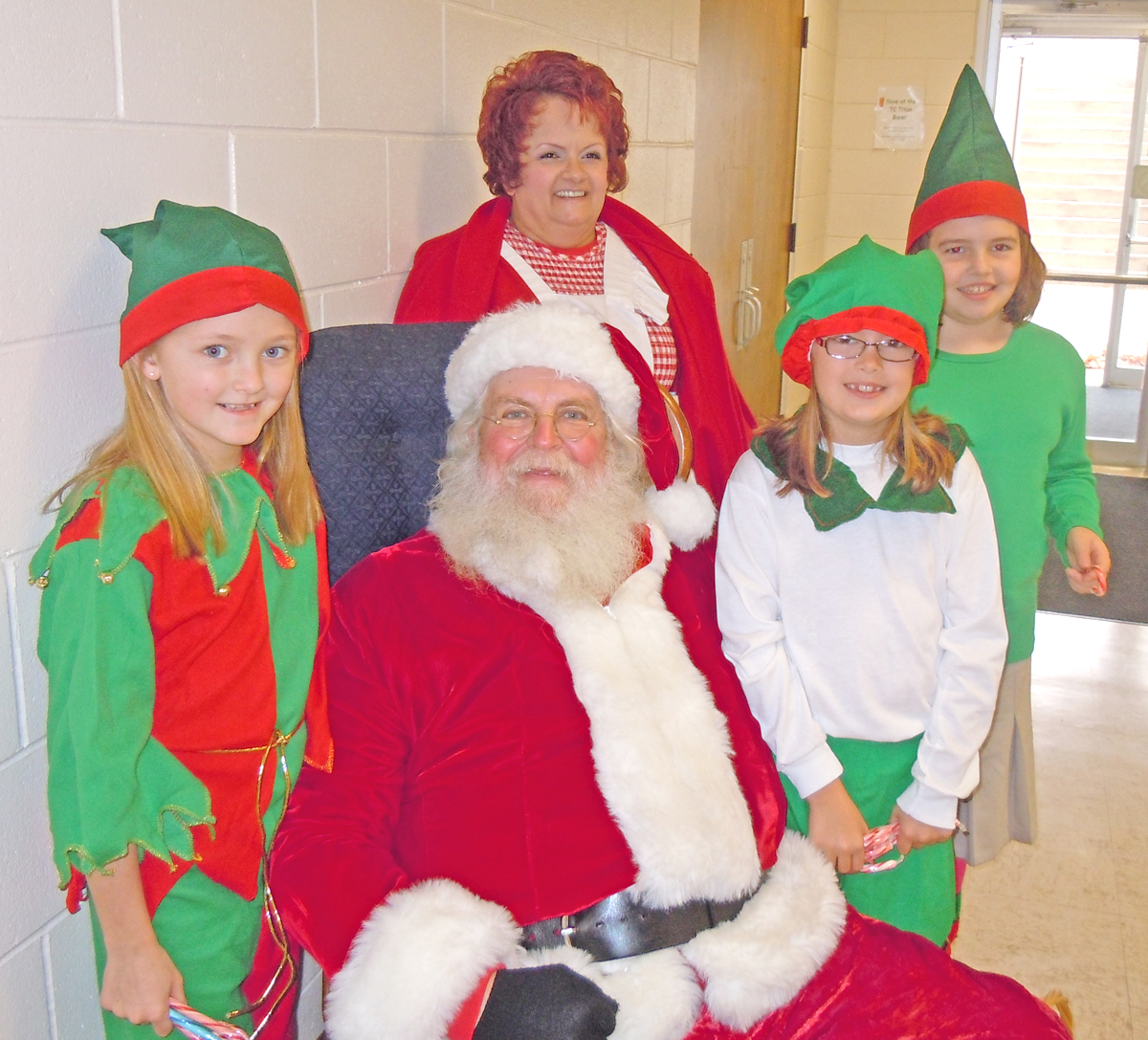 Santa and Mrs. Claus were recently spotted at the Hebron Christmas Fair and Christmas Stroll. Girl Scout Troop 944 assisted the jolly elf during his visit in November. For December visits throughout local communities, see the information below. Pictured above, Santa's helpers include (l-r) Kylie Pachta, Hannah Cooper and Bailey Kiburz.
Santa Claus will be making his annual appearances throughout Thayer County over the next couple of weeks. Following is a list of communities, times, and dates locals can expect to see St. Nick.
Bruning: Santa will be at the Bruning State Bank on Saturday, Dec. 11, 8:30-10 a.m. The annual Toy Drive will also be in session at both the Bruning and Hebron locations until Dec. 11.
Carleton: Santa will make his annual appearance at the Carleton School building Saturday, Dec. 18, at 2 p.m. Parents are reminded to bring cameras for picture taking. The Carleton Businessmen's Club sponsors the event.
Davenport: Santa will make his annual visit at the Davenport Fire Hall Saturday, Dec. 18, at 2 p.m. Santa treat bags are provided by the Davenport Lions Club and the American Legion will also hold its annual Christmas drawing.
Deshler: All ages are invited to the Deshler Lions Club "Breakfast With Santa," at the Deshler Lutheran School beginning at 8:30 a.m. The area Chamber of Commerce will host pictures with Santa following the breakfast and there will be a kid's craft table for children as they wait to talk to Santa. Deshler Lutheran Friends of the School will also feature a Christmas Cookie walk.
Gilead: Santa Claus will make his annual visit to the Pioneer's Inn from 10-11 a.m., Saturday, Dec. 18. Also featured, weather permitting, Tom and Amy Lohmeier will provide holiday trolley rides.
Hebron: Santa has already made a couple of appearances in Hebron including the annual Christmas Fair and Christmas Stroll; however, he may still be spotted visiting area centers, so keep out a watchful eye.