Shane Day takes on mayor duties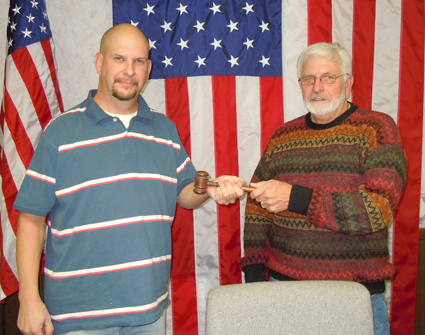 Thayer County Deputy Shane Day (l) receives the mayor's gavel from Hebron City Council president Larry Fangmeier (r). Fangmeier served as the temporary mayor after Randall Hergott vacated the office earlier this year. The transition is customarily made during the December meeting.
Thayer County Deputy Shane Day stepped into the City's leadership role as mayor earlier this month as the Council made its traditional transition from old to new at the regular December meeting.
Day has been a deputy with the local police force for 12 years, and actually worked for the city prior to becoming a policeman.

He said earlier this year before getting elected that he has lived in Hebron all his life and feels he is ready to serve his hometown in the mayoral capacity.

"I worked for the city for nine years doing general labor and for 20 years have been a member of the Hebron Volunteer Fire Department ," where he is currently the assistant chief, he said. "I want to serve my town to the best of my abilities, get projects and services done in a timely manner and continue to make Hebron a great place to live and raise a family."

Day lives in Hebron with his wife Jenifer and young daughter, McKenzie.