Three compete at state wrestling meet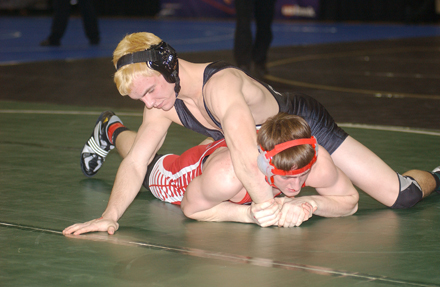 Thayer Central wrestlers Kale Hintz and Trevor Hartley made a good showing at the 2011 Class D state wrestling tournament, but were unable to medal after falling to their respective opponents in the consolation quarterfinals Friday evening.

Both advanced to the quarterfinals Thursday after winning their first rounds , but both then slipped to the consolation bracket after falling in the quarterfinal matches.
Hintz, wrestling at 171, pinned Shane Smith of Sutherland in a quick 49-second first-round match. In the quarterfinal against Coltin Brokaw (38-6) of Winside, the Thayer Central senior was pinned in 3:12. In his first match Friday, Feb. 18, the second consolation round, Hintz defeated Heath Shannon of Franklin in a quick 56-second pin. The win advanced him to the consolation quarterfinals against Logan Loeffelholz of Amherst later in the evening where he was pinned in 2:52. Making his fourth trip to the state mats, the senior finished his season 37-11.


Hartley, wrestling at 189, pinned Nathan Gamble of Maxwell in a hard fought 5:28, then fell to undefeated Cory Brester (42-0) of Howells in the quarterfinal. Brester pinned Hartley in 1:25 which sent him into the consolation bracket. The Thayer Central junior, making his third showing at the state meet, pinned Dillon Tiede of Elwood in a 1:46 second consolation round Friday late morning. He advanced to face Nicholas Licking of Mullen later that evening where he fell in a 6-4 decision. Hartley ends his junior year of wrestling on a 35-12 record.
Thayer Central freshman, Jacob Kniep, wrestling at 135, fell to Nate McFadden of Sandhills/Thedford in an 8-1 decision in the first round of competition. The Thayer Central wrestler then faced Greg McKain (17-8) of Sutherland Friday morning where he was pinned in 2:42. Kniep, a first-time state contender, ends his freshman season on a 21-25 record.