Lady Titans end season in subdistrict play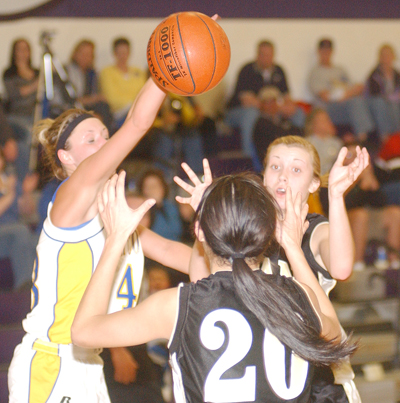 The Thayer Central Titans finished their season Thursday night after falling to Friend, 39-52, in the C2-3 subdistrict tournament at Geneva. Friend was the No. 1-seed in the bracket; Thayer Central was No. 2.

Friend leaped to a 12-7 lead in the first period, then increased that lead to 32-17 at the half-time mark. Although the Lady Titans attempted to catch up in the third outpacing the Bulldogs 12-5, it wasn't meant to be, and Friend walked away the winners in the end.

Seniors Cody Long and Michaela Marsh combined to lead the offense posting 14 and 12 points respectively. Kinsey Tietjen added six while Bridgette Baden had five and Jasmine Kovacs put up two.

Prior to the Friend game, Thayer Central defeated Tri County 54-31 in the semifinals match Tuesday night.

Three Titans scored in double digits including seniors Cody Long (15 points) and Michaela Marsh (14 points) and sophomore Bridgette Baden (12 points).
Thayer Central dominated the contest going 15-4 in the first period, 11-6 in the second, 12-9 in the third and 16-12 in the fourth.

Other scoring came from Kinsey Tietjen with eight, Claire Timmerman with four and Claire Johnson with one.

The Titans finish the basketball season 11-11.