Storm rolls through on 60-70 mph winds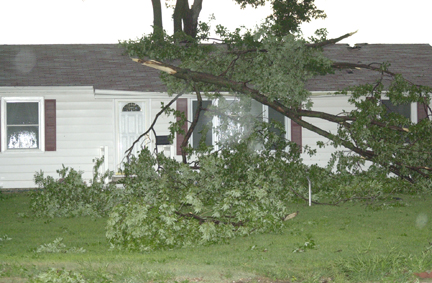 A powerful summer storm, packing winds in excess of 60 mph, trampled across the county Sunday evening darkening skies and damaging trees. Some areas of the county experienced power failures, but most of the damage from the straight-line winds were to trees. Rain also came down in sheets in some areas while others reported little or no precipitation. There were no injuries or hail damage reported although a semi was knocked off of Hwy 8 south of Fairbury in Jefferson County. Hebron received approximately 1.42 inches of rain while Davenport reported 1.30 inches.
The storm hit Hebron from the northwest at 6:20 p.m. on sustained 60 mph wind just before a torrential downpour made visibility nearly impossible. Temperature readings dropped from 97 degrees to 70 degrees in a matter of 20 minutes. Although no hail was associated with the storm, the strong wind with gusts in excess of 75 mph, downed large enough tree branches to block roads. In one instance in Hebron, an entire tree came crashing down in an alley near 3rd St. and Duffield.
At 6:30 p.m., powerlines were reported down in Hebron, Belvidere, Carleton, and Deshler. At 6:19 p.m., Thayer County emergency manager Bill McPherson reported 65-70 mph wind in Carleton and that the power was out. At 6:46, public storm watchers noted 60 mph wind in Chester lasting longer than ten minutes.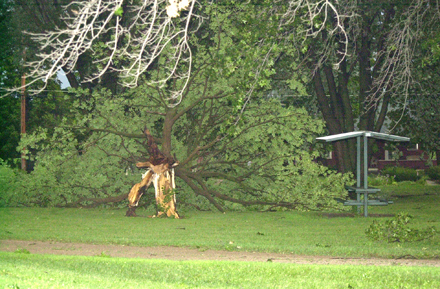 By 6:55 p.m., the rain stopped in Hebron and the wind had slowed to 30 mph. Within minutes the storm was over and although the it brought reprieve from the extreme heat, the cool down is short lived. High temperatures will climb back into the 90s for the next several days and dew points are expected to stay in the mid-70s making the "feels like" temperature reach triple digits again.