TCHS Board of Trustees begin search for CEO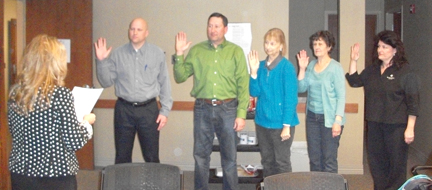 Thayer County Health Services will see new leadership soon as the board begins the process of replacing the medical center's CEO. In the meantime, Janelle Ali-Dinar will step in as the administrator for at least 60 days.
Last month Ali-Dinar met with Thayer County Commissioners Dave Bruning, Chris Frye and Dean Kreuger to explain the upcoming process of finding a replacement for past CEO Joyce Beck. Beck was relieved of her duties in February after the commissioners told the hospital's board of trustees to "do what they felt they needed to do to improve morale," at the facility.
Last week, the board of trustees held a strategic planning meeting where members worked on developing a conprehensive strategic plan to address key issues facing TCHS. Topics included replacing the administrator, provider recruitment, employee engagement, optimizing growth opportunities and budgets and capital projects.
The hospital will also pursue a community assessment survey which will help determine what the future healthcare needs are for the communities served by Thayer County Health Services.  Based on the results of the survey, Thayer County Health Services will be able to develop a comprehensive plan to meet not only the current, but future needs facing the facility. The survey will also outline recruitment needs.
The timetable necessary to develop, implement and put all of the strategic plans will be an on-going process.  In the meantime, the board appointed Janelle Ali-Dinar, Regional Director, CHI NE/St. Elizabeth Regional Medical Center (SERMC) as the interim CEO at Thayer County Health Services. Janelle will be on sight at TCHS an average of 2-3 days a week. She is already working diligently with the entire TCHS to identify direct team needs and build team engagement.  A Nebraska native who was born and raised in Webster County, Ali-Dinar has over 20 years of healthcare leadership experience.
Also at the March 27 meeting, two new board members; Loren Wiedel from Hebron and Karen Else from Belvidere were welcomed to the board.  Prior to the start of the meeting, Stacey McLaughlin, Clerk of the District Court, gave board members Chris Roth, Loren Wiedel, Nancy Hofts, Harriet Easton, and Karen Else, the oath of office.
According to Ali-Dinar, "CHI NE is passionate about rural health and addressing the challenges and complexities of rural access, delivery and workforce shortage needs of Nebraska critical access hospitals.
"We want to do everything we can to make critical access hospitals viable in their respective communities, counties and patient service population and do so via a robust service offering of customized support services and resources focusing on quality, technology, operations and solutions.
"CHI NE and St. Elizabeth Regional Medical Center are proud to provide contract managed services to Thayer County Health Services and serve the Hebron community and Thayer County and extended patient service area. We are pleased with the history of our positive partnership, the depth of talent and longevity of the entire TCHS staff, the clinical expertise, the provider excellence and support and every team member's commitment to move forward and build a new brand and new culture of employee engagement and excellence."