Track students compete at state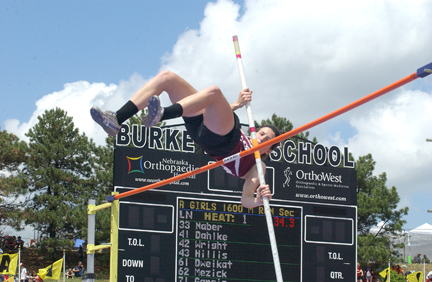 To see more photos of the Titans, Eagles and Dragons at the 2011 NSAA High School State Track and Field Meet, click on the photos prompt at the top of the page.
Thirty-one student athletes from Thayer County headed to the 2011 NSAA State Track and Field Meet last Friday and Saturday at Burke Stadium in Omaha. The Thayer Central Titans and Deshler Dragons competed in Class C while the Bruning-Davenport/Shickley Eagles competed in Class D. BDS Eagles junior Cynthia Mick defended her pole vault title with a golden leap Saturday, and the Dragons' 1600 meter relay team finished first in the closing race of the competition late Saturday afternoon. Below, find details of each team as they progressed through the two-day trial.
Titans: Thayer Central boys were able to place in three events last weekend. Leading the way with a fifth place finish was the 3200 relay team including members Michael Feulner, Tyler Van Cleef, Kalen Wenske, and Kesston Fink. The team finished the race in 8:27.433.
Individually, junior Michael Feulner and sophomore Greg Dightman also placed in their respective events. Feulner finished the 800 meter run in 2:02.215 for sixth place while Dightman leaped 20'9.75" for sixth place in the long jump.
Thayer Central alumni Seth Wiedel still holds the Class C record for this event with 23'8.5" which he set last year at the state meet.
Other non-placement performances for Thayer Central boys  included Dietrich Brinegar in the 300 meter hurdles preliminary with a race in 42.899 seconds; Greg Dightman in the triple jump with a leap of 40'4"; and Michael Feulner in the 1600 meter run with a run of 4:40.725.
The Thayer Central boys' team finished with 21 points.
The Lady Titans got off to a slow start at the state meet after finishing out of medal contention in the 3200 relay race. The race, traditionally opening the running events, was paced by freshman Bailey Linton, sophomore Bridgette Baden, recent graduate Michaela Marsh and freshman Madison Reece who finished in 10:23.908.
Later Friday morning, recent graduate Cody Long faced three dash preliminaries, but was unable to qualify for the finals. She finished the 100 meter dash in 13.121, the 200 meter dash in 27.450 and the 400 meter dash in 1:01.692.
On Saturday, freshman Bailey Linton rounded out the Lady Titans' performances running the 1600 meter in 6:00.609.
Eagles: BDS junior Cynthia Mick ended her second trip to the state track meet as an Eagle in fine style after collecting a gold medal in the girls' Class D pole vault. Her championship leap of 10'10" defended her title from last year which she earned with a vault of 10'6".
Her brother, recent graduate William Mick, picked up a silver in the boys' division of the same event with a leap of 13'8".
Cynthia went on to finish the 100 meter hurdles in 16.860 for seventh place on Saturday after qualifying for the finals with a preliminary time of 16.221 on Friday.
Recent graduate Derek Swartzendruber added a bronze medal win to the boys' total score after clearing a 6'1" bar in the high jump.
Erika Schroeder, also a recent graduate, ended her track career in the 300 meter hurdles. After qualifying for finals on Friday with a 48.782 run, she earned a seventh place finish Saturday with a run of 48.775.
Rounding out placement performances for the Bruning-Davenport/Shickley Eagles was the girls 400 meter relay team including freshmen Taylor Kindelspire and Jennifer Mick and juniors Anna Lichti and Cynthia Mick.
The Lady Eagles team finished with 14 points while the men finished with 15 points.
Other competitors which finished out of placement status included:
Girls 1600 relay (Zoey Messman, Jennifer Mick, Jill Schroeder, Erika Schroeder) 4:20.5922; Jill Schroeder-triple jump 31'9.75"; Cynthia MIck-100 meter dash preliminary 13.382; Kalli Schroeder-long jump 14'8"; William Mick-100 meter dash preliminary 11.273, 200 meter dash preliminary 24.118; boys 400 meter relay (William Mick, Luke Christensen, Kendrick Holeman, Omar Gines) 46.945.
Dragons: The Dragon 1600 meter relay team cruised to a gold medal win in the final event of the 2011 state track meet Saturday afternoon. The team, whose members include juniors Josiah Burger and Luke Dlouhy and recent graduates Thomas Vonderfecht and Cody Loupin, clocked 3:30.742 for the win.
Vonderfecht went on to take fourth in the 400 meter dash earlier in the day in a time of 51.277 and Loupin managed an eighth-place finish in the same race with a time of 53.621 to round out the Dragons' placement performances.
On Friday, Vonderfecht and Loupin qualified for the 400 meter dash finals after finishing the preliminaries in 51.559 and 51.778 seconds respectively. Both athletes competed in other dashes, but did not qualify for finals. Loupin finished out of contention in the 100 meter dash when he raced to a 11.410 finish and later Friday morning Vonderfecht finished the 200 meter dash preliminary in 23.467 seconds.
For the girls on Friday morning, Tiffany Herbek competing in the long jump, leaped 15'5.5" finishing out of medal contention, while Kylie Betten also finished out of medal contention in the 3200 meter run with a race of 12:38.539.