Nebraska's post office mural explores Hebron's New Deal legacy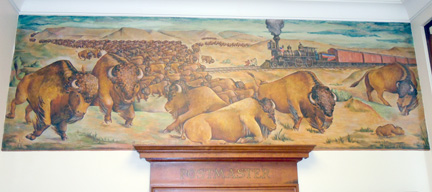 As a part of the New Deal that offered hope during the Great Depression, scores of public art projects were commissioned, especially for federal buildings. Now they are among the most enduring visual legacies of that era. Hebron was chosen to receive one of 12 post office murals in Nebraska. Nebraska's Post Office Murals: Born of the Depression, Fostered by the New Deal is a new book from the Nebraska State Historical Society that presents the story of these valuable historical pieces.
Richly illustrated with photographs and never-before-published artists' sketches, the book reveals the personalities, conflicts, and spirit of the times from which the art emerged. Each of the artists commissioned to do the murals had a background story, and author Robert Puschendorf follows the journey of each mural to its completion.
The mural installed in Hebron depicts a group of men shooting at buffalo that are stopping a train. Painted by Eldora Lorenzini, Hebron's mural was one of four Nebraska post office murals painted by a woman. Although the mural took her only three weeks to paint, criticism from Lorenzini's supervisors and revisions of the mural delayed the final version by a whole year. Once it was finally installed, the mural was received favorably by the local community.
The book contains color foldouts of each work, displaying the detail of the U.S. Treasury Department's post office mural program in Nebraska. Bill Ganzel, author of Dust Bowl Descent, had this to say about Nebraska's Post Office Murals: "Across Nebraska, small town post offices still house gems of regional art. This book brings these murals to a larger audience. This is a fascinating and enlightening exploration of a beauty in the midst of hard times."
Author Robert Puschendorf, NSHS associate director and the deputy state historic preservation officer, spent years researching the book. With James E. Potter he is the co-author of the Nebraska Book Award-winning Spans in Time: A History of Nebraska Bridges, and has published numerous historical articles.
Visit nebraskahistory.org/murals or call 402-471-3447 for more information.