Volunteers called to help with massive fire in Jefferson County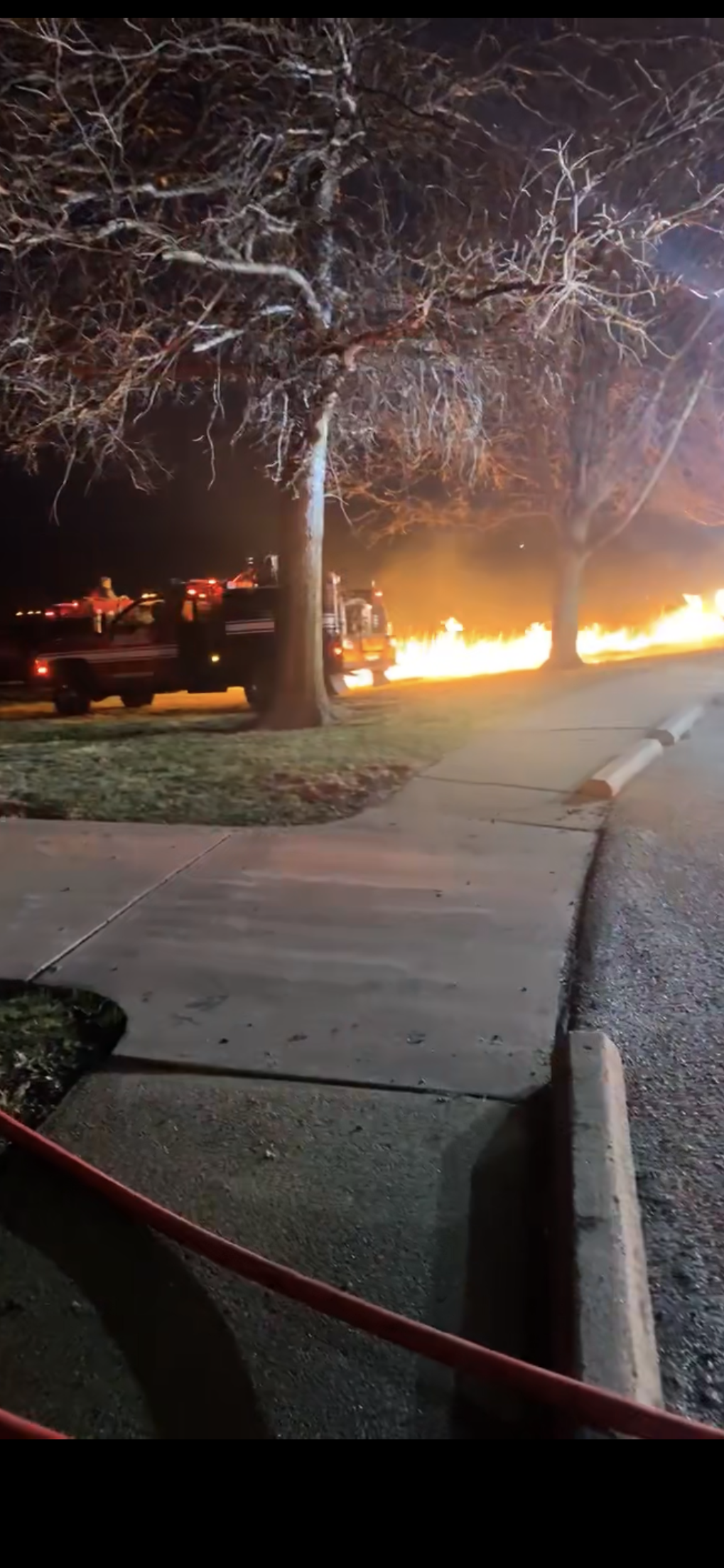 Volunteer fire fighters from Alexandria, Hebron and Deshler were summoned during the early evening hours of April 11 to assist with a healthy blaze at Rock Creek Station in Jefferson County, where high winds carried flames. A total of 1,800 acres were burned.   
Alexandria Fire Chief Evan Skiles said about 11 volunteer fire fighters from his department helped protect the visitor's center at the state park.
"We kept it wet. The original fire was probably 300 yards away and we protected it as they lit a backfire. Those flames were 30 yards from the center," Skiles said.
It was difficult to bring equipment in, Hebron Fire Chief BJ Linton said.
"The main thing we did was protect the three or four houses there. Nine guys went and we basically provided support for protect those houses," Linton said.
Deshler's grass rigs helped with the back burning to protect the visitor's center.
"We were doing that with Alec and providing water to the pumper truck," assistant chief Steve Krupicka said.
About six volunteer fire fighters came from Deshler and they didn't leave that night until about 11:30 p.m. They brought three trucks. The next night, they brought two trucks for an overnight shift, 7 p.m. to 7 a.m. Alexandria joined them and patrolled to ensure the fire stayed within its footprint.
"We did a little bit of mop-up to make sure nothing spread," Skiles said. Bear-n-T's Hideaway in Alexandria provided pizzas for the night shift while fire fighters gave crews in Jefferson some much needed rest.
Linton said the terrain of Rock Creek made it rough for vehicles.
"We've had several fires that jumped the road, but this one, you couldn't really get to it. There were no access roads for miles," he said.
Krupicka echoed Linton.
"We've gone to several fires out west, in terms of acreage, but this was unique because of the terrain, the canyons and woody areas with very thick trees and crick and river bottoms made it incredibly difficult to get trucks to the fire," Krupicka said.
Alexandria was also on alert for the fire in Cass County, in Waconda and Beaver Lake. The Cass County Emergency Manager reported treacherous terrain with large bluffs and ravines in a vast wooded area that had to be accessed by foot and utility vehicles.
By April 11, the Cass County fire, that had jumped the Missouri River from Iowa, was about 85 percent contained.
Rock Creek got into what Thayer County Emergency Manager Colt Farringer, who helped with the Cass County fire April 8, calls "nasty ground."
"You can't fight it with a pickup. You're either on foot or an ATV or UTV. There's no good way to fight it unless you're on foot with hand tools, digging lines," he said.
As more volunteer fire fighters were called in, Farringer went directly to protocol as a Type 3 safety officer. He is Nebraska's only credentialed Type 3 officer, who oversees about seven people in training to become Type 3 officers.
Farringer said there were bulldozers to dig lines and an excavator to take out trees weakened by the fire, one of the largest ever recorded in the southeastern part of the state.
"There was no recovery overnight. You usually have some dew, but that didn't happen. It made the fire more active. Also, most of the time, the winds calm down overnight, but what we saw was winds at 10 to 20 miles per hour," Farringer said.
It was a fire out of control, originating from a controlled burn April 10, Jefferson/Saline County Emergency Manager, John McKee said April 14 about 12:30 p.m. The fire was at about 80 percent contained that morning. As the day wore on, containment climbed.
McKee recalled April 11.
"Tuesday around 3 p.m., the wind picked up and blew embers north. That's when it started falling apart. Colt was working with me. We exercised our mutual aid agreement through EM's. We knew this was going to be a nightmare," McKee said.
He said other than Nebraska Game and Parks Commission and the National Guard, most fighting and containing the fire were volunteers.
"In my 23 years as an EM, we have not worked a fire where I have had to use the manpower I did. It's the first Black Hawk helicopter with water bucket drops in Jefferson County. We've had Black Hawks for flooding, but never for water drops," McKee said.
Local authorities, including McKee, requested assistance with wildfires in multiple locations. Thirty-two Nebraska National Guard soldiers and airmen were activated by Gov. Jim Pillen to Rock Creek and Cherry County. A UH-60 Black Hawk was in Jefferson and another, along with a CH-47 Chinook crew were deployed to Cherry County.
McKee put out a call April 13 for supplies, like eyewash, protein bars and other prepackaged individual servings of food, bottled water, Q-tips and wash cloths.
"People just don't stop. We were getting way too much stuff and had a problem shutting that down. We tried to get folks to start financial donations to the departments of their choice. That will go a lot further," he said.
McKee estimated expenses topped $200,000. Alexandria, Hebron and Deshler will be reimbursed for their expenses.
Farringer, who has turned his time sheet in for county reimbursement, explained the process for navigating such a fire or natural disaster starts at the local level and branches outward to pull resources.
"Ultimately, we ended up calling the state IMAT (Incident Management Assistance Team)," he said. Thayer is part of a 14-county area, the Southeast Regional IMAT team. "John had thrown everything he had at the fire and he needed help. We requested the state and helicopter to come in. We can and do call the state response team because we can't fill positions on the ground, so we call for bits and pieces," Farringer explained.
The SE IMAT requested the helicopter Tuesday night, but were told to hold on because of other fires in the state.
"As we worked through Wednesday, we started receiving resources," Farringer. The southeast regional team was working with the Wildland Incident Response and Assistant Team (WIRAT).
"They are the subject matter experts. They're very well versed in handling large wildfires. They came in to help Steele City and Fairbury fight that fire," Farringer said.
Farringer used a house fire as an example of how command operations work.
"On a house fire, the fire chief is the operations, financing and admin. For something this large, he needs bodies to flush out that command structure. That's where the IMAT comes in, so he's not taking bodies off the line. He brings people in that are trained to handle the fire," Farringer said.
Early on, Farringer recommended paging the Alexandria, Hebron and Deshler fire departments.
"They needed what Alexandria, Hebron and Deshler had. I did give those phone numbers and said if they needed something to call those guys because there was a pretty good chance they would come back," Farringer said.
As a safety officer, Farringer was also called to Cherry County, but he was too busy in Jefferson. If they couldn't find an officer, they were probably going to have to summon one from the federal level.
"We were actually going to get a hand crew out of New Mexico here," Farringer said. "Assets and resources are available. You just have to know who to ask."
McKee can't say enough about the volunteer fire fighters, who were on the front lines day and night through the Rock Creek fire.
"We ran operations from 7 to 7. There is not enough appreciation for what they did for us or anyone," McKee said.
Alexandria also had a brush fire reignite from about a month ago just north of Highway 4.
"That's not uncommon. Those piles can smolder for a long time," Skiles said. "We got it out pretty quick."
Farringer, who was working in Fairbury at the time, said he was potentially going to send the helicopter to Alexandria had the fire spread.
Pillen, who had earlier issued an executive order for a statewide burning ban until April 16 at 12 a.m., extended the ban April 17. The ban is a suspension of the authority of local fire chiefs to waive the open burning ban, effective until midnight April 23.
In a news release, NEMA reported the fire's footprint was scaled down to 1,800 acres from the initial estimate of 2,600 acres. Rock Creek Station is closed until further notice.
In the release, Fairbury Fire Chief Kenny Krause expressed his gratitude for the regional response:
"I want to thank everyone from the state level who helped us out on this, as well as the responding local volunteer fire departments."
Krause also thanked the community of Fairbury for their overwhelming donations and support.