Volunteers give time to decorate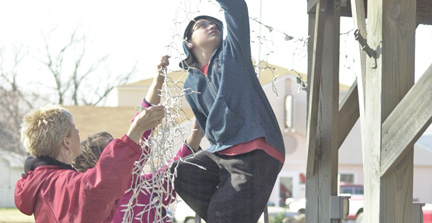 A handful of volunteers showed up to help the Women's Achievement Club decorate Roosevelt Park Saturday afternoon as the group gets set for the holiday season. WAC has been lighting up the central city park for several years. "This year we have added new arches," said the Club's president Elaine O'Neal. "The wind ought to have quite a bit of fun with them." O'Neal said weather is generally the biggest challenge for the Club's annual decorating project – last year winter weather cancelled the project altogether – but for the most part volunteers are able to fix or reset anything that blows over or gets broken.
Pictured: Volunteers gave time and assistance to the Women's Achievement Club Saturday afternoon to kick off the holiday season by decorating Roosevelt Park. Walker Dick strings icicle lights on the park gazebo with help from Brenda Striggow (red coat) and his mother Michelle Dick. Other volunteers included both the Traci Virus and Michelle Dick families, Jim Fraser, Karin Dominy, Nancy McLaughlin and Janet Nielsen.
For more photos of the decorating event, click on the photos prompt at the top of the page.