Year in Review – January through June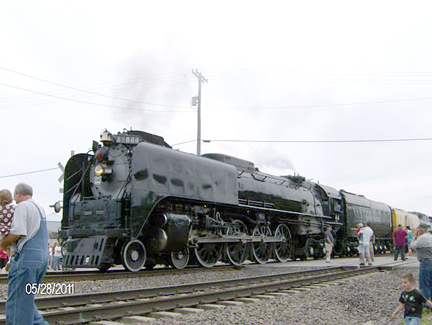 Each year the Hebron Journal-Register takes a look back as we prepare to head into another year of news worthy events. This week marks an end-of-the-year tradition as we begin our look back at 2010. In the first of two parts, we'll take a look at some of the happenings that occurred from January to June. Next week, we'll present the rest of the story (July through December).

January

Thayer County was hit with its first significant winter storm of the season as nine inches of powder covered its landscape and townships January 7. Locals spent Sunday morning, Jan. 8, digging out after nearly three inches of snow fell overnight Saturday night, then faced over six inches Monday morning, Jan. 9, when a second blast moved through Sunday night.

The additional snow closed area schools for the day to give folks a chance to dig out. More snow with increasing wind was expected Monday into Tuesday, but the final blow missed the area.

Thayer County officials took the oath of office: new to county leadership offices were Commissioner Dean Krueger and Clerk of the District Court Stacey McLaughlin.

Record holder for State of Nebraska employment Loetta Raatz, of Hebron, retired after 65 years of service. Raatz worked in the Department of Health and Human Services during her entire stint, but set the record for most years employed in all State of Nebraska departments.

Thayer Central Athletic Boosters unveiled a $4.5 million renovation plan to the school. The plan includes district renovations as well. Part of those renovations have already been realized as the district has completed replacement of the track and field complex.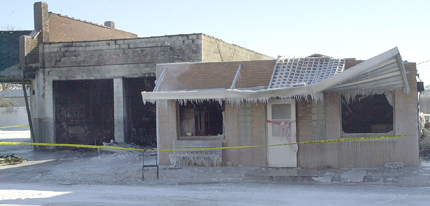 February

"Remembering Our Fallen," an exhibit honoring 98 American soldiers from Nebraska and Iowa who were in the Iraq and Afghan wars, was on display at Thayer County Health Services.

The county was plunged into a winter weather warning as two inches of powder  turned to four-foot drifts on 35-40 m.p.h. winds, Feb. 1. Dangerous windchills accompanied the storm dropping the temperature to 30-40 degrees below zero.

The "Noteables" performed for locals at the Thayer Central High School. The jazz group, a division of the Air Force's Heartland of America Band, featured both instrumental and vocal numbers highlighting the big band era, our armed forces and patriotism.

Thayer County Livestock Feeders Association held its 47th annual banquet.

The Base Hit Bar in Davenport was destroyed in an overnight blaze. Volunteers from three fire departments battled the flames in sub-zero temperatures from midnight to 6:30 a.m., Feb. 2.

Everyone had to start using all ten digits to make local telephone calls after the Nebraska Public Service Commission added a 531 area code. For decades Nebraska was split into two area codes, 402 and 308, but February marked the third district with the new three-digit number.

March

Thayer County Assessor Karla Joe said the county had seen a $5 million growth and indicated a raise in agricultural land valuations which, she told county commissioners, landowners were already aware of the valuations.

Thayer County's population fell by 827 people in the last decade. Detailed counts were released in March. Hebron was the only community among the 11 county-based towns and villages to see an increase. The county seat's population rose from 1,565 in the year 2000 to 1,579 in 2010.

The Thayer Central bridge-building team, under the tutelage of instructor Bryan Solomon, took the state title. Members of the team included Cody Pachta, Joseph Dougherty, Kesston Fink and Dylan Long.

Susan M. DeJong, rural Fairbury, was charged with first degree murder after appearing in Jefferson County Court. She is accused of beating her husband, Thomas DeJong, to death.
April

Charlotte Vetch Endorf, a native of Alexandria, was named the 2011 Nebraska Mother of the Year.

A team of Thayer County historical society volunteers, commissioners, Deshler Girl Scout Troop 925 working toward their Silver Award, friends and neighbors pitched in to clean up Mt. Gilead Cemetery.

Eddie R. Kibbee was sentenced to 30-40 years in the Nebraska State Penitentiary for sex abuse in Thayer County District Court by the honorable Judge Vicky Johnson.

The Hebron City Council discussed possible uses for the water-damaged Pioneer Center. The City took over management of the center after the Pioneer Club disbanded. Currently, city leaders have decided to renovate the building to make it usable.
ReinCoat, LLC, a division of Reinke Manufacturing, Inc., announced plans for a $10 million addition to its production facilities that will include a new state-of-the-art galvanizing facility at Reinke headquarters in Deshler.
May

Thayer County watched 95 senior high school students graduate: Thayer Central – 31; Deshler – 24; Bruning-Davenport – 13; Shickley – 8; Meridian – 19.

Severe weather pounded through the area as conditions went from unusually high temperatures (92 degrees on May 9, to below normal temperatures (50 degrees on May 13) in a four-day period. Straight-line wind was the main culprit with several reports of damaged pivots in the Belvidere and Carleton area.

There were 31 students from Thayer Central, Bruning-Davenport, Shickley and Deshler schools headed to the 2011 Nebraska State Track and Field meet in Omaha. BDS's Cynthia Mick defended her title in the Class D pole vault while the Deshler men's' 1600 meter relay team earned a gold medal in Class C.

Thayer County was put into a flood watch on May 24 after several local areas received up to nearly five inches in a three-day period.

The Hebron Women's Achievement Club purchased eight American flags to fly on the gazebo in Roosevelt Park. The flags will be displayed on Veteran's Day, Memorial Day, Independence Day, Flag Day and President's Day.

Union Pacific Steam Engine 844 Little Rock Express made a whistle-stop in Belvidere attracting a crowd of over 500 viewers.

June

The KOLN/KGIN Can-Care-A-Van returned to Hebron after skipping the community in 2009. Channel 10/11 weatherman Brad Anderson made an appearance as the collection netted 6,885 pounds of food for the Blue Valley Community Action pantry.
University of Nebraska-Lincoln Husker baseball players held a one-day camp at the Hebron Sports Complex guiding area youth in hitting and pitching skills. It was the fourth year organizer Loren Goedeken invited the Big Red Academy to Hebron.

Thayer Central instructor Jane Dodes received the American Legion Teacher of the Year award. The program recognizes dedicated and devoted individuals who give  of themselves on behalf of the youth of Nebraska.

Longtime Davenport correspondent for the Hebron Journal-Register, Carol Lowery, set aside her typewriter after providing news from Davenport since 1997.

The weather turned uncomfortable as summer got underway with temperatures in the upper 90s, high humidity and skyrocketing dew points.

(Join us next week as we take a look at June through the rest of the year.)