Legacies honored at Legion games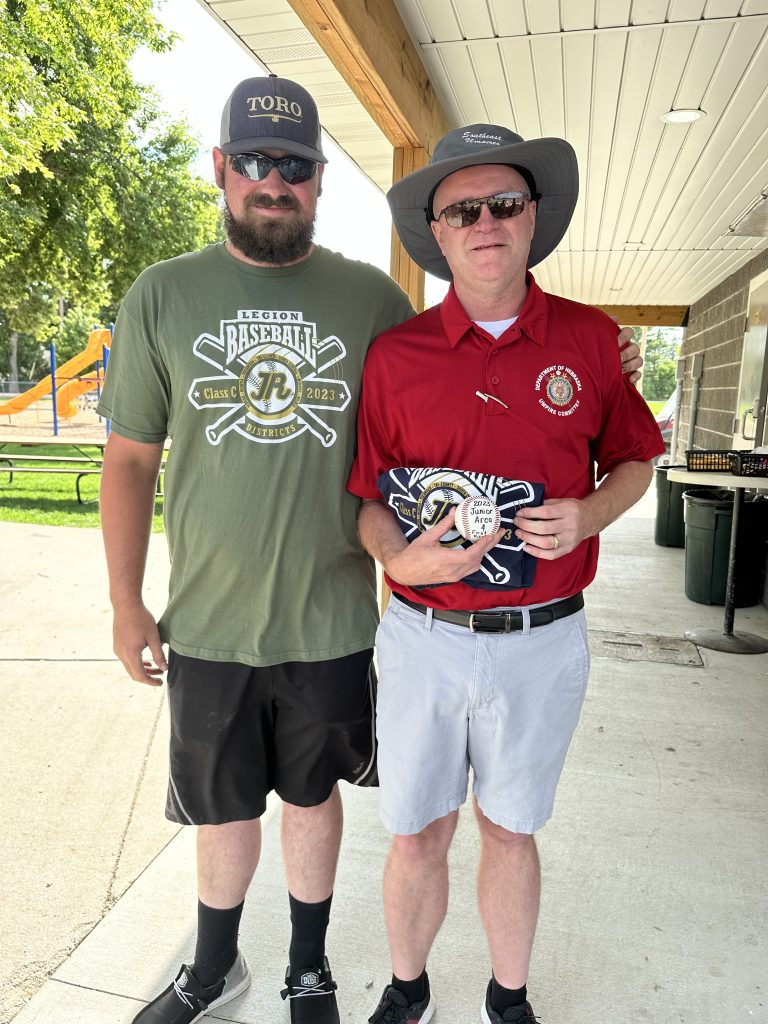 It was a weekend packed full of legacies — coaches, volunteers, umpires and more were honored at the Legion Junior District tournament, plus a Wall of Honor for those who served and are serving in the military were featured by the ball players and coaches.
Take Cameron Harding, junior and senior Hebron Legion pitcher and player, who chose three family members to honor because they inspired him the most — Don Van Westen, his great-grandfather; Ann Van Westen, his great-grandmother; and his uncle Matt Van Westen.
"I'm so thankful for them serving and protecting our country," Harding's portion of the Wall of Honor reads. "I am also thankful for my uncle who decided to join the Navy after following the steps of my grandparents."
No. 22 Jaron Norder honored his brother, Caden, who is training to be a fighter pilot at Vance Air Force Base.
"Caden is my big brother. I have always admired his drive and his ability to overcome adversity. I am proud he will be defending our country from the sky," Jaron wrote.
Legion ball coach Lathan McLaughlin honored his grandfather Donald Hartley, and son and team member, Carson McLaughlin played in memory of his great-grandfather, Lloyd Farnstrom, who absolutely loved baseball, and told a great Thanksgiving story about his time in the service.
First pitches and recognition were also part of the tournament's six-day stretch that began with Scott Laaker and Janelle Farnstrom.
Laaker has been involved with the American Legion Baseball team for the past two years since his boys, Colt and Cooper started playing for Hebron. He spent countless hours at the ball field assisting with announcing, the scoreboard, field preparation and more. He endured the long hours of four Woodbat Tournaments by helping behind the scenes.
He assisted with the replacement of the ballfield fence down the third baseline.
Laaker also volunteered to oversee field preparation between games with the assistance of the Hebron Senior players during the district tournament.
"Volunteers like Scott are what make the Legion baseball program a success."
The rain didn't stop the Legion program from honoring Farnstrom. She has donated countless hours to supporting the program through banner sales, football books and more since 1994.
Farnstrom has attended hundreds of games as well and is always willing to volunteer whereever she can to help make the program successful.
"We greatly appreciate all she has done!"
A first pitch was also thrown for Doug Modlin, who began his coaching career in 1992 and stepped down in 2009, years after both of his sons were done playing.
Over 17 years, Modlin took teams to district finals and two teams to the state tournament. In 2007, his team finished third at state. The 2008 team was fourth at state.
Modlin is not only a valued member of the community, he is on the Friendls of American Legion Baseball and still active. He, along with many other community members, worked hours and hours to prepare the Legion field for what it is today.
He and wife, Michelle, have a love for the game of baseball and passed that on to their sons and grandsons. They hold season tickets to Nebraska baseball and never miss a home game. But, most of all, they adore watching their grandsons play the game.
"Doug, thank you for all you have done for th egame of baseball in Thayer County."
Another first pitch went to Gary Cullison, who transitioned to umpiring American Legion games in 1994. After five years, the assigner of the Southeast Umpiring Association moved out of state and asked Cullison to step in. Since 2000, Cullison has assigned all the summer Legion games for 13 towns, Beatrice USSSA league for ages seven to 14, and then began assigning high school baseball. All of Cullison's duties are in addition to umpiring multiple games each summer.
All together, Cullison has been involved in 18 American Legion State baseball tournaments. He retired from umpiring two years ago after suffering a heat stroke, but Cullison continues to assign games and is a 10-year member of the State Umpiring Liaison Committee.
The Hebron Journal-Register will feature additional honorees in next week's issue.