Bauhard is new Thayer County Veterans Service Agent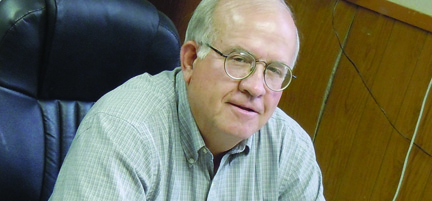 Meet the new Thayer County Veteran's Service Agent, Dr. Marlin Bauhard. Most will recognize him from his many years of patient care as a family physician at Thayer County Health Services. Dr. Bauhard practiced medicine at the local clinic and hospital from 1985 to 2009.
Beginning Oct. 1, he stepped into the shoes of past service agent Rodney Kirchhoff. Dr. Bauhard, who is also  a veteran, says the office is available to help any veterans with submitting claims for compensation, disability issues and questions about their pensions.
"There's been a lot of attention lately on veterans of the Iraq and Afghanistan conflicts such as post traumatic disorder," he said. "Rehabilitation from severe wounds are also at issue and getting veterans back into the work force is a problem," adding that the unemployement rate for veterans is higher than it is for civilians.
Dr. Bauhard is a Viet Nam veteran having served in the United States Army as an x-ray technician and medic. He spent the final months of his enlistment – August 1969 to December 1969 – in Viet Nam.
The Thayer County Veterans Service Office is open two days a week, Tuesday and Wednesday, from 7:30 a.m. to 4:30 p.m.