Little Free Libraries come to Hebron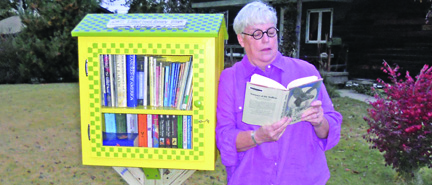 A new fad is sweeping the country – little boxes erected in people's yards, along country roads, midtown parks or busy shopping venues. Are they a new form of yard art? Elaborate mail receptacles? Often themed, the boxes take on an artistic appeal beckoning passers-by to ask the question, "what's that?"
"They're little free libraries," says Clarence Baden, who just finished installing a brightly painted little box in his own front yard in Hebron. Baden said his wife Anne read about the new fad and after visiting a Little Free Library in Hadar, Ne., asked him if he could build her one.
Author Charlotte Endorf, who grew up in Alexandria and frequently returns to visit, has seven boxes gracing her front yard in Hadar.
The boxes hold books collected by or donated to the sponsor of the little library. The books are free for the taking – there's really only one suggestion – replace the one taken or bring it back after it's been read.
"I thought it would be fun to have one," Anne said and added with a shrug, "anything we can do to promote reading…"
The Little Free Library is the creation of Todd Bol and Rick Brooks of Wisconson. The first was set up in 2009 as a memorial to Bol's mother. It quickly caught on with neighbors, families, retirees and children, so a website was set up to track where in the world new libraries popped up.
Nearly 3,000 in over ten countries as it turns out,  including the United Kingdom, Germany, Netherlands, Italy, Ghana, Pakistan, Mexico, Canada. Nebraska has five officially registered sites – two in Omaha, one in Lincoln, Fremont and Hadar; the Baden's Little Free Library brings the number to six.
The website www.littlefreelibrary.org, has photos and information on all registered libraries including locations with photographs on a nifty pop-up map. The site also contains instructions for building a Little Free Library, or for ordering one already put together and information on how to register. It also offers a blog.
The Badens' design is based on Anne's love of little doll houses. "I've just always liked them so I thought it would look neat to have a house-shaped library in the yard."
Clarence is in the process of building a second library with children in mind, Anne said. "My first visitor was a little boy who lives down the street. He said he saw a book that he liked when he was a little boy, which is funny because he's only about six years old now, but he brought one of his own and traded it for the book he wanted in the library."
His visit inspired Anne to create the second library for children thereby separating the children's books from  the adult's books. The new library will also set lower to the ground for easier access by children.
The organization's mission is to promote literacy and the love of reading by building free book exchanges worldwide and to build a sense of community by sharing skills, creativity and wisdom across generations. And, like Anne said before, "anything we can do to promote reading…"