BDS advances – Titans, Dragons end seasons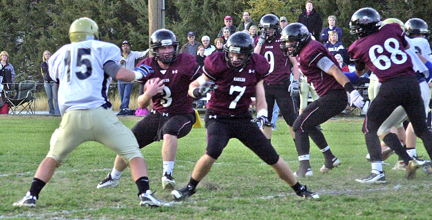 The BDS Eagles (8-1) advance to the second round of the Class D-1 playoffs after defeating Omaha Christian, 66-8, Thursday night. The Eagles used a ground attack to get the job done, amassing 360 yards in rushing while holding OCA to 94 yards. Eight Eagles scored during the contest. The second round kicks off at 6 p.m., Wednesday, Nov. 2, as the BDS squad hosts Freeman (7-2) at Bruning.

In other playoff action, Thayer Central ends its 2011 season after losing to Kearney Catholic, 21-68, Thursday night in the first round of the Class C2 playoffs. The Titans finish the season on a 4-5 record.

The Deshler Dragons also finish the season 4-5 after falling to the undefeated Pender team, 40-54, Thursday night in the Class D-1 playoff.