Volleyball Subdistricts underway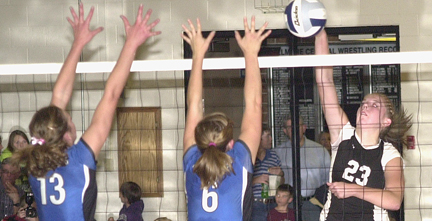 Nov 1: The D1 No. 4 ranked BDS Eagles fell to No. 1 ranked Exeter-Milligan Tuesday night in the D1-2 subdistrict final played at Fillmore Central. It was the fourth time the two teams faced each other in the 2011 season.
"We came up short in a hard fought match," said BDS Coach Dan Sorge, "but after a slow start in game one, we battled the Timberwolves to the end. Some unforced errors late in game four hurt our chances of going to a fifth game, but I was proud of how we battled back and kept putting pressure on their defense."
The extended fourth game came to an end when BDS attempted to bounce a kill of E-M blockers, but went wide and just missed the line. Exeter-Milligan went 25-13, 25-20, 23-25, 32-30 in the win.
Oct 31: Thayer Central fell to Blue Hill in the C2-9 subdistrict tourney at Sandy Creek Monday night. The Lady Titans end their season on an 18-8 record.
Oct. 31: D1 No. 4 Bruning-Davenport/Shickley defeated Deshler in the D1-2 subdistrict tourney. The Lady Eagles advance to meet D1 No. 1 Exeter-Milligan in the subdistrict final tonight at 7 p.m. Deshler ends its season on a 7-18 record.
Volleyball subdistrict action begins Monday, Oct. 31, as Thayer Central, Bruning-Davenoprt/Shickley, and Deshler compete for a berth at the state finals.
In the C2-9 contest at Sandy Creek High School, Thayer Central (18-6) will face Blue Hill (20-7) at 6:30 p.m. The winner of that game will advance to play the subdistrict final on Tuesday night.
In the D1-2 contest at Fillmore Central, Bruning-Davenport/Shickley (25-3) will face Deshler (7-17) at 6:30 p.m. The winner advances to the subdistrict final on Tuesday night.
Updates as the tournament continues will be posted here.