BDS Eagles finish fourth at state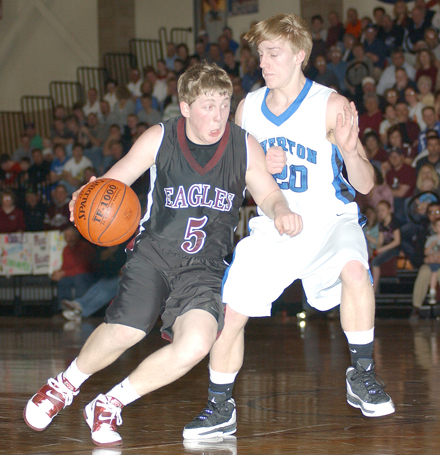 The BDS Eagles ended the 2011 NSAA State Basketball Tournament in fourth place after falling to Pawnee City, 29-31, in the D1 consolation round Saturday, March 12. The Eagles, having defeated the Indians twice in earlier regular season play, lost their edge in the third period and finished the contest unable to recover the deficit.
"We basically just ran out of gas in this one," said Bruning-Davenport/Shickley coach Fred Kluck. "Both teams were tired and we both shot poorly. The kids gave a great effort all three days."
BDS could only muster 6-of-18 field goals and 2-of-6 free throws in the game. Ryan Tegtmeier, who rolled a three-point shot off the rim at the final buzzer for one last attempt to take the game, turned in 11 points, seven rebounds and four assists in the contest.
Derek Swartzendruber added ten points and seven rebounds and Kendrick Holeman managed eight points in the game.
BDS Eagles (23-6): 09-07-06-07-29
Pawnee City:          08-06-12-05-31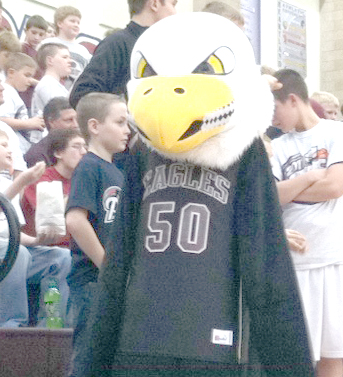 On the road to the finals, BDS defeated Overton, 70-61, and fell to West Point Central Catholic, 42-50. Details of these games can be found below.
Against West Point Central Catholic, the Eagles fell to a dismal 11-23 deficit in the first half and spent the second two quarters battling back. Struggling to control Blue Jay 6'5" post Alex Stiernen was the BDS bane as the top-rated blocker shut down the Eagles' inside game.
Late in the third period, BDS managed an 11-point unanswered run courtesy Kendrick Holeman's three- and two-point buckets, Ryan Tegtmeier's three-pointer at the buzzer, Michael Houchin's two-pointer, and Derek Swartzendruber's free throw cutting the lag to 25-33. But no matter what the Eagles did in the fourth period, the Blue Jays maintained their comfortable eight-point lead behind 12-of-16 shooting from the charity stripe.
BDS was 16-for-48 in field goals and 7-for12 in free throws. Ryan Tegtmeier led the offense with 14 points and 12 rebounds. Derek Swartzendruber added ten points while Luke Christensen put up eight points; two of those 3-pointers at crucial moments. Rounding out the BDS scoring, Kendrick Holeman had six points, and both Michael Houchin and Tyler Lauenstein provided two points each.
BDS Eagles (23-5): 06-05-14-17-42
WPCC (20-8):        15-08-10-17-50
– – – – – – – – – – – – – – – – – – – – – – – – – – – – – – – – –
The BDS boys' basketball team completed the first step in the 2011 NSAA State High School Basketball Tournament Thursday afternoon by defeating Overton 70-61 in the first round of the D1 division. The game was played at Lincoln North Star.

The win came behind sizzling shooting from both the field (62.1 percent) and charity stripe, but it was from the free throw line (11-of-14) in the final two minutes of the game that snagged the victory.

Heading into the fourth period 50-36, BDS appeared to relax turning over most of the final quarter to Overton as the Overton Eagles chipped in 20 points while holding BDS to 10. With Overton threatening a takeover, 56-60, a couple of free throws from BDS sophomore Luke Christensen sparked a charity stripe frenzy on behalf of Ryan Tegtmeier (7-of-8) to lift the BDS Eagles to the safety range. Overton had one more try at the catchup by way of a Jacob Olmstead trey before BDS closed the game on one free throw from Christensen and two from Tegtmeier.

BDS was 23-for-37 in field goals led by senior Derek Swartzendruber who finished with a game high 21 points. Tegtmeier added 19 while Tanner Ahrens provided 12. The Eagles were 23-for-29 in free throws and had 30 rebounds; Tegtmeier collected 6.

Overton was 21-for-54 in field goals, 15-for-21 in free throws and had 20 rebounds. Jacob Olmstead led with 16 points.

BDS Eagles (23-4): 13-20-17-20-70
Overton (19-5):      17-07-12-25-61

BDS scoring: Derek Swartzendruber 21, Ryan Tegtmeier 19, Tanner Ahrens 12, Luke Christensen 8, Michael Houchin 6, Kendrick Holeman 2, Jeremy Row 2.

Overton scoring: J Olmstead 16, Weiss 15, Bevard 14, Z Olmstead 10, Jensen 4, Aten 2.