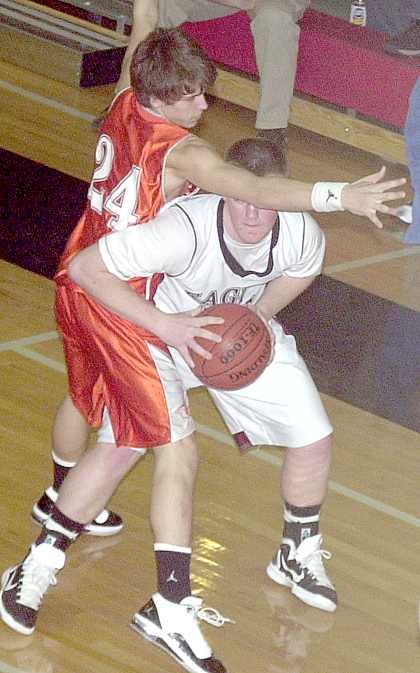 Bruning-Davenport/Shickley will head to the 2011 NSAA state basketball tournament next week after securing the D1-1 district final Tuesday night. The Eagles defeated Osceola 40-32 for the trophy.
Seeded fourth in Class D1, BDS will face No. 5 Overton Thursday, March 10, at 3:45 p.m., at Lincoln North Star High School.
The Eagles enter the state contest on a 22-4 record; Overton carries 19-4. West Point Central Catholic (18-8) is the No. 1 seed in the bracket which can be found at the NSAA website.
The semi-final game takes place the next night at 7 p.m. at the Pershing Auditorium with the championship scheduled for Saturday, March 12, at 4:30 p.m., at the Devaney Sports Center. All championship games will be telecast on Nebraska ETV public television.
BDS v Osceola
In the district final, the Eagles almost let a game most considered easily won slip through their fingers as Osceola's offense took off and BDS shooting became grounded. Heading into the final period 26-13, BDS senior Derek Swartzendruber hit a layup to pull the Eagles to a 15-point lead, 28-13, before Osceola's Bartley Nelson sank his first of two treys. Swartzendruber answered with another layup (turning out to be the Eagles' only baskets from the field), but Osceola's Jesse Swantek arced in a bucket from the sidelines. Free throws on both sides ensued until Nelson collected his second three-pointer and Swantek collected his first of two treys to bring the Bulldog deficit to just eight points, 35-27.
Free throws ruled the final two minutes as BDS shooting cooled off and Osceola forced them to the charity stripe. The Eagles hit only 5-of-12 tosses from the line as the clock wound down to a roaring crowd. Osceola out-scored BDS 19-14 in the final period, but BDS led the first three quarters posting 6-2, 13-6, and 7-5.
Ryan Tegtmeier led the Eagle offense with 14 points while Swartzendruber and Tanner Ahrens each collected eight points. Kendrick Holeman posted seven while Luke Christensen had two and Jeremy Row had one.