Thayer County population continues decline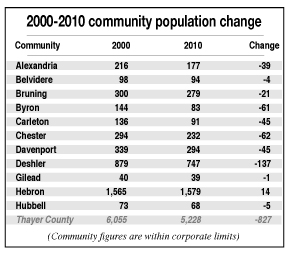 It really wasn't good news the county heard as the U.S. Census released population figures for Nebraska March 2, but it really wasn't unexpected either. Thayer County's population continues to dwindle as the years pass; by nearly half if you look at the last 50 years. In the last decade we've lost 827 people dropping from 6,055 in 2000 to 5,228 in 2010.
Hebron, the county seat, is the only community in Thayer County to turn in population figures in the plus column for the 2010 census increasing by 14 over the last ten years. Everyone else lost population.
Particularly alarming, the community of Deshler, ranking in the top 12 in the state for population loss, was hit hard seeing a drop from 879 people ten years ago to 747 people in 2010. Chester and Byron lost 62 and 61 respectively, while Carleton and Davenport each had 45 people less living in town. Rounding out Thayer County's communities, Bruning lost 21 people while Hubbell lost five, Belvidere lost four and Gilead lost one.