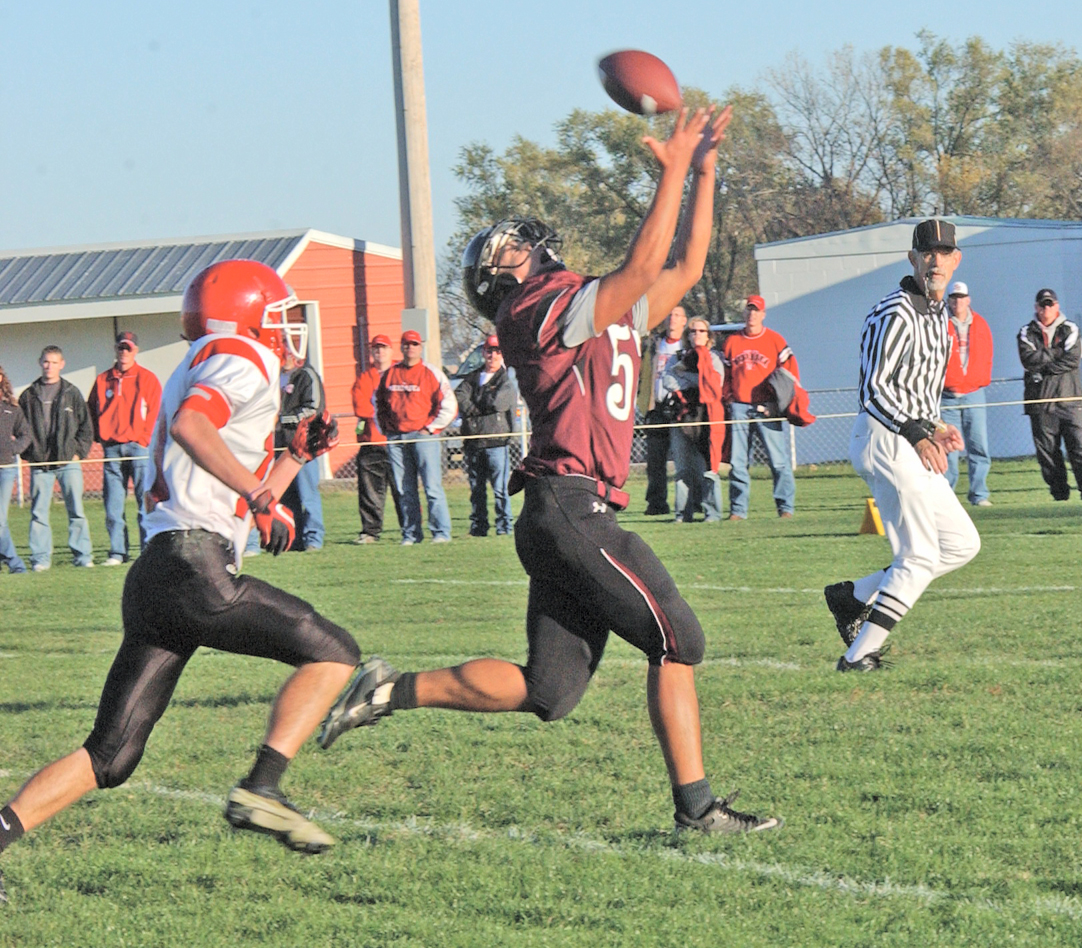 The Bruning-Davenport/Shickley Eagles football team used a mixed bag of tricks to slip past the Scribner-Snyder Trojans Thursday evening in the first round of the D1 State Playoffs. The game, played at Bruning, went to the Eagles as they trounced the Trojans, 56-12.

"We spoke with the team before the game about what kind of team either school would have had if we had not cooped; how this would have been just another Friday night leading up to the basketball season," said Coach Kevin Willems. "We talked about team unity, how we had come together as a team and we didn't want this ride to end. We also discussed playing our own positions and not trying to play everyone else's spot.

"As things went, we played one of our best team games of the year because we felt before the game that Scribner-Snyder would be comparable to some of the better teams we faced this year. We were very pleased with the effort the team displayed."

The victory pits BDS against the east bracket's No. 1 seed Bancroft-Rosalie. The Eagles entered the playoffs as the No. 8 seed. Scribner-Snyder was No. 9.

In Thursday's contest, Luke Christensen led the Eagles with three first-half touchdowns, 55 yards rushing on five carries, and 37 yards on three receptions. Kendrick Holeman scored twice and led in rushes with 115 yards on 14 carries.

The Eagles had 425 total yards in the contest (332 on 44 rushes) while holding the Trojans to 178 (73 on 27 rushes).

Christensen scored right away in the first period on a 44-yard run, then collected the final two in the second period on passes; the first for seven yards and the second for 18 yards.
Both receptions came via Ryan Tegtmeier.

Holeman collected his first score on a 9-yard run in the first period and a huge 57-yard run in the second period.

Other scores from the Eagles came via Tegtmeier on a 12-yard keeper run in the third period; Karson Novacek on a 1-yard run in the same quarter; and William Mick on a 65-yard kickoff return in the fourth period.

Ryan Tegtmeier was good for 65 yards rushing on six carries and also had 93 yards passing on six-for-eight attempts.

Novacek was good for 57 yards on 13 rushes, while Trevor Krehnke went 25 yards on five rushes and Jose Gamboa had 14 yards on one rush. Gamboa was also good for 43 yards on two receptions while Derek Swartzendruber collected 13 yards on one reception.

In tackles, Jose Gamboa, Michael Houchin and  Karson Novacek each had nine while Tyler Lauenstein had seven, and Luke Christensen and Trevor Krehnke each had five.