Titans collect win at C2-3 subdistricts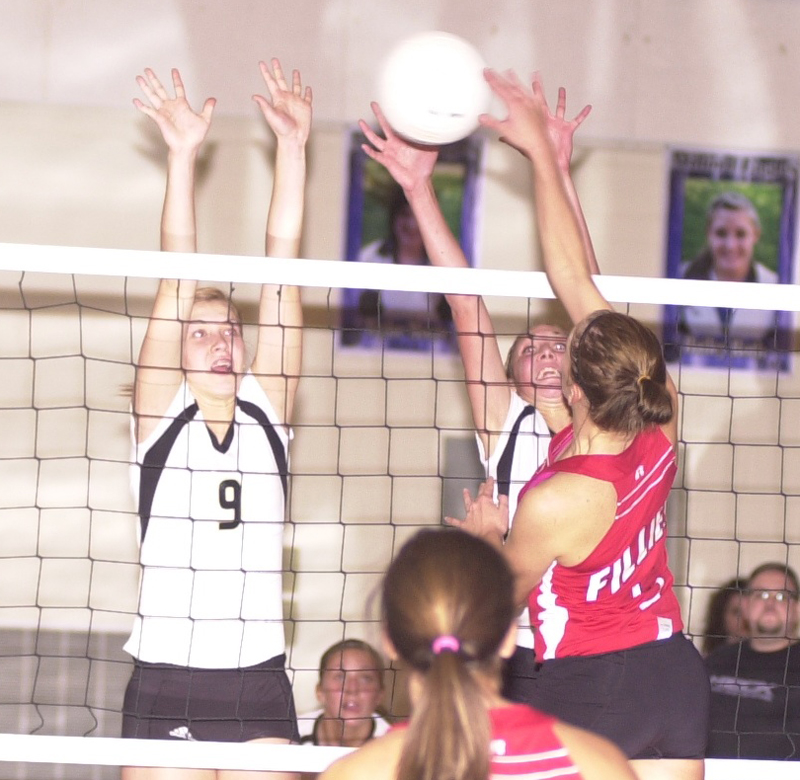 The Thayer Central Titans, seeded No. 1 in the C2-3 subdistrict bracket, downed No. 3 Friend in the final subdistrict game Tuesday night, Nov. 2, 25-17, 25-10, 25-23. The win sends them to the district final against Sutton this Friday, Nov. 5 at Friend. The game is scheduled to start at 7:30 p.m. Whether the Lady Titans win or lose the district match, they will compete at the state tournament beginning Nov. 11. Details of the state brackets, game times and venues will be made available soon.
In the contest against Friend, Thayer Central coach Kurk Wiedel commented on Friend's strong play. "This was a very competitive game from start to finish," he said. "Their outside hitters hurt us by running a quicker offense and exploiting our defense at times. We were able to gain an advantage with some tough hitting."
Cody Long and Michaela Marsh led in hitting posting 19 and 8 kills respectively. Long also provided two ace blocks for the defense while Bridgette Baden had 18 digs in the back court. Timmerman put up 30 assists in the game. The team was 75/82 in hitting with 35 kills, 79/80 sets with 31 assists and 63/69 in serving with 8 aces.

Prior to the subdistrict final Tuesday night, the Lady Titans faced No. 4 Southern Monday night in the opening round of the tourney winning in three straight sets, 25-13, 25-16, 25-15.

C2-3 subdistrict teams and seedings  include No. 1 Thayer Central (24-2), No. 2 Tri County (7-19), No. 3 Friend (9-17), No. 4 Southern (4-23), and No. 5 Wilber-Clatonia (0-26).

In Monday's contest, Thayer Central coach Kurk Wiedel said all 14 of his players saw action in game. "We had a straight sets win over Southern who found it difficult to handle our tough hitting," he commented.

Cody Long and Bridgette Baden led the attack with 12 and 10 kills respectively, while Michaela Marsh added three ace serves. On defense, Marsh also provided nine digs while Kinsey Tietjen had three aces.

Claire Timmerman had 53/54 sets with 23 assists and Tarryn Tietjen had 22/22 sets with seven assists.
The Thayer Central Titans entered the Southern Nebraska Conference Tournament Monday night, Oct. 25, defeating Tri-County 25-9, 25-15, but fell to Fillmore Central, 19-25, 15-25, Tuesday night in the quarterfinal round at Milford. The upset loss to Fillmore Central was the Titans' second on the season. "We struggled throughout the match as their quick offense caused us problems," Thayer Central coach Kurk Wiedel said. "We could not get anything going offensively because of poor passing and we had some key serving errors as well."

On Friday, the team downed Sutton to win third place in the tournament. "We played well throughout the match after having some serving issues in set 1," the coach said. "Kelsey Long and Kinsey Tietjen both serve-received to near perfection allowing us to get our outside hitters one-on-one opportunities."
Against Sutton, Cody Long led with 21 kills and five ace blocks. Bridgette Baden had 14 kills and 20 digs while Michaela Marsh put up three ace serves. Claire Timmerman had 40 assists.

Against Fillmore Central, both Baden and Long led the attack with nine kills each.
"Bridgette was a bright spot offensively with nine kills on 27 attempts," the coach commented. She also provided six digs while Kinsey Tietjen had one ace block and Timmerman provided 24 assists.

In the game against Tri County, which was played at home, Cody Long led the attack with seven kills while Kelsey Long had two ace serves. Bridgette Baden provided 11 digs while Kinsey Tietjen had one ace block and Claire Timmerman had six assists. "We came out strong behind the hitting of Bridgette Baden," said Coach Wiedel. "We were able to get some easy points on serving, as well."