Byron wants to keep post office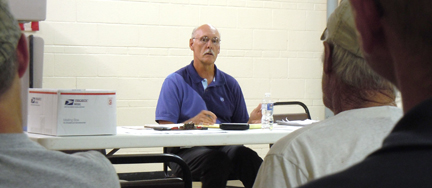 Byron postal service patrons gathered last week in an effort to save their post office from closing its doors. The US Postal Service announced earlier this summer that the community's brick-and-mortar office could be on the chopping block. It's one of two in Thayer County on a list of 90 statewide offices, nearly all of them rural, earmarked to close. The other is Carleton. (The Alexandria post office, earmarked for closure earlier than the current list, was notified that it will be closing.)

In September, USPS began a 60-day review period to look at offices identified for possible closure. Town meetings are being held to collect information and comments from patrons; the information is passed onto USPS administrators for review. Last Wednesday, Oct. 12, over 75 people gathered at the Byron school building to voice comment.

USPS senior manager of Nebraska  and Kansas post office operations  Howard Nissen said the Byron office operates at a net loss. "It's been determined that the work load and traffic into the Byron office is less than two hours a day," he said and added that it's happening all over. "It pains me to say this, but we (USPS) are operating close to bankruptcy. People just don't use the post office anymore. Every week our volume is less by five to seven percent than it was the same week last year."

But closing all the offices wouldn't be effective either, he added, which is why the USPS is conducting the study. "We want to know which offices should stay open."

Should the Byron office close, he said, the community decides whether they want centrally located cluster box units, or a village post office where postal service business is conducted at an existing business in town. Either way, a rural carrier will deliver and pick up mail for the area. The Hebron post office will become Byron's post office.

"The rural carrier will be considered a post office on wheels," said Seward Postmaster Greg Walz, who was also present to answer questions and take comments. "They will be able to conduct business while on the route, but if you miss them and need to have something mailed that day, you will need to drive the 21 miles to Hebron to mail your item."

Byron resident Susan Tietjen said 49 businesses and organizations use the Byron post office. "Rural America is part of America, too, and we're tired of being hit. First it's our schools, then our clinics, now the post office. Over and over I read that you are undergoing financial problems due to the internet. What are you thinking? If you close the Byron post office, I guarantee I will go online to pay my bills. And since FedEx and UPS are in town anyway, I'll probably just turn to them. I will no longer be loyal to the United States Postal Service."

Nissen said he welcomed her comments and understood what she was saying. "This is the classic business model. If you cut costs you run the risk of losing customers," he said. "We're plowing new ground here. I've never in 30 years seen this before, and it's why we're here, to see if closing the Byron office or keeping it open would be more cost effective."

In a news release issued in August, the USPS is considering closing post offices in an effort to save money. The organization lost about $8.5 billion in 2010 and expects to lose another $8 billion in 2011. A federally-mandated pension plan for employees is mostly to blame, although officials are also quick to blame the internet.

"We're the only business in the United States that has this mandate," Nissen said. "But we're also on the wrong side of communications, here. Young people don't want to mail a letter. They want instant communication."

Last month, US Postal Service president and chief marketing/sales officer Paul Vogel said USPS needs to either ask for  legislative changes that put the business on a level playing field with the way a normal business operates, or continue to reduce the infrastructure, including plants and post offices, to become more efficient.

Currently, USPS is restricted by law in how it manages its pensions and employee health plans, what products and services it can offer, and how much it can charge customers for those items. Changes Vogel identified to increase efficiency include cutting 120,000 positions, closing 3,600 post offices, relief from health benefit and retirement payments and elimination of Saturday delivery. Vogel added that if nothing was done, postal rates would have to increase by 20 percent to offset an $8 billion loss. In 2010, the Postal Regulatory Commission denied a 5.6 percent raise stating current law restricts postal rate increases to no more than the rate of inflation.

At Wednesday's meeting, Byron patrons voiced specific postal needs and what the loss of the local service would mean. Residents were also asked to complete a survey and submit any comments which could be taken to the local post office until mid-November.

In closing, Nissen said he thought it was worth it to the residents to look at how to improve the number of transactions and revenue at the Byron office. "You have a bank, grocery store and head-out route here," he said. "Those are unique and rare situations, but you need to look at ways to increase the revenue because that's what USPS is looking at to close the office."

The USPS will hold a village meeting in Carleton tonight, Oct. 19, at 7 p.m., in the community building.