Thayer Central's Trevor Hartley wins state wrestling title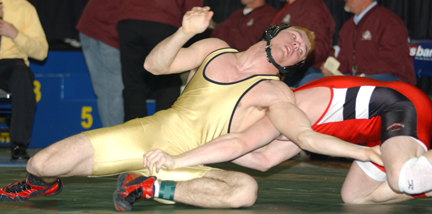 Thayer Central senior Trevor Hartley secured the state championship in the 182 weight division in wrestling after defeating the unbeaten Ben Burmester of Pender in overtime Saturday evening. Hartley, making his fourth appearance at the state meet, pinned Burmester in 6:35 to take home the title.
Burmester immediately scored two points on a take down in the first period to gain an early edge, but Hartley made an escape to cut the deficit in half and end the session 1-2.
In the second time slot, Hartley added another escape to tie up the contest, but Burmester immediately answered with a second take down to increase his lead again, 4-2. Hartley again scored on an escape and once again ended the time period on a one-point deficit, 3-4.
In the third period, Hartley scored a point on a stalling call against Burmester forcing the match into overtime. Thirty-five seconds into the extra period, Hartley pinned the Pender junior for the win.
Thayer Central took four wrestlers to the state tournament this year including Hartley, Cody Krula, Dalton Kenning and Clayton Hintz. The 2012 NSAA state wrestling tournament was held at CenturyLink Center in Omaha. As a team, the Titans finished eighth with 52 points.
Trevor Hartley
Hartley's path to the championship match included victories over three opponents in the 182 weight class. The senior made quick work of round one by pinning Quinten Chancellor of Medicine Valley in 52 seconds Thursday afternoon. Later in the evening he defeated Taylor Hoffman of Oakland/Craig in the quarterfinal by pin in 2:36.
The win advanced Hartley to the semi-finals on Friday where he faced undefeated senior Bryce Davis of Garden County. In a grueling match, Hartley eventually defeated Davis by pinning him in 4:26, but not before facing a couple of deficits. Trailing 3-6 in the second period, Hartley scored a take down to tie the contest, but Davis escaped and scored two more points by taking Hartley down at the end of the period. Facing another three-point deficit as the third period got underway, 6-9, Hartley used the next 26 seconds to convert the pin and win the match.
Hartley is the fourth state champion since Thayer Central became a district in 2002. In his final two years of high school wrestling Joey Koch won back-to-back championships in 2005 and 2006; Craig Degenhardt won the title as a senior in 2005; and Anthony Luongo won as a senior in 2006. Hartley is Thayer Central coach Brett Larson's first state champion. He ends his senior year on a 39-2 record.
Cody Krula
At 138, sophomore Cody Krula went 4-2 in the state tourney to bring home a fourth-place medal. Krula fell to Shane Keasling of Harvard, 2-4, in the consolation final for the placement. It was the sophomore's first trip to the state meet and he ends his season on a 35-13 record.
Krula began his contention defeating Shane Beckman of Elgin Public/Pope John 8-5 in the first round. He advanced to the quarterfinal round where he fell to Tanner Taubeheim of Amherst in 1:38. Entering the consolation bracket in the second round, Krula defeated Tony Steinkraus of Plainview in a 4:22 pin. From there he advanced to the consolation quarterfinal where he defeated Jared Kuta of Palmer due to an injury default. In the semifinal, Krula defeated Greg McCain of Sutherland, 7-4, to advance to the consolation final.
Dalton Kenning
At 132, junior Dalton Kenning went 2-2 in his first performance at the state meet. Kenning began his journey falling to Wyatt Kipp of Arapaho in the first round, 1-7, which placed him in the wrestle-back bracket. There he pinned Jacob Wisenhunt of Maxwell in 3 minutes flat, and defeated Ben Fox of Dundy County-Stratton, 4-1, to advance to the consolation quarterfinals. There he was defeated by Devin Dibbern of Amherst, 0-12. Kenning ends his junior season on a 20-8 record.
Clayton Hintz
Junior Clayton Hintz, wrestling at 145, also went 2-2 on his first performance at the state meet. Hintz's journey began Thursday afternoon when he was pinned by Paul Downey of Dundy County-Stratton in 1:02, which placed him into the wrestle-back bracket. There his defeated Levi Lange of Winside, 6-3, and Chandler Moen of Plainview, 4-0. The wins propelled him to the consolation quarterfinal where he fell to Blake Reppert of Pender, 2-10. Hintz ends his junior season on a 30-16 record.