First baby of 2013 born on New Year's Day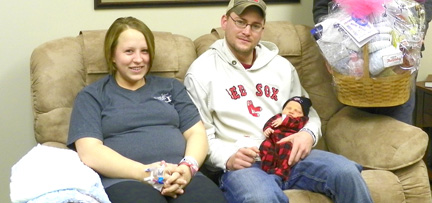 Zander Jake Hellbusch was born Jan. 1, 2013 at 2:38 a.m., making him the first baby born in 2013. The infant boy weighed 6.14 pounds and was 19" long. He is welcomed home by his parents Ashley and Dylan Hellbusch of Hebron and 2-year-old brother Wyatt.
His grandparents are Gary and Yvonne Hellbusch of Gilead and Mark and Teresa Spotanski of Hazard.
Donations to the New Year's basket courtesy Amanda's Cottage; The Bottle Shop; Central Market; Cornerstone Bank – Davenport; Hintz's Cheese, Crafts, and Balloons; Hanna B's; Hebron Sports Shack; True Value Hardware; Priefert Pharmacy; Thayer County Health Services; TCHS Hospital Guild; Deshler Chamber of Commerce; and the Hebron Chamber of Commerce.